Advertisement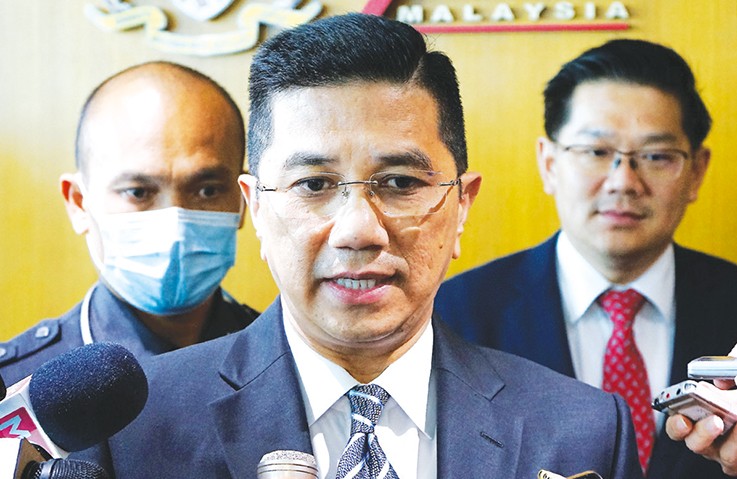 THE Regional Comprehensive Economic Partnership (RCEP) will enable local industries to expand into the international market.
International Trade and Industry (MITI) Minister Datuk Seri Mohamed Azmin Ali (picture) said the agreement which covers 15 countries would also encourage competition among local small and medium enterprises (SMEs) to enter the global markets.
"The RCEP gives local industries the opportunity to gain access to a bigger market.
"Currently, the local market is too small as we only have around 32 million population.
"The aim and purpose of RCEP is not only to meet international agreements, but it is also to enable local industries to increase exports," he told the Dewan Negara yesterday as a response to a supplementary question posed by Senator Datuk Mohan Thangarasu.
The RCEP is the largest free-trade agreement (FTA) in the world, which consists of 2.2 billion or nearly a third (29.7%) of the world's population and accounts for US$24.8 billion (RM102.18 billion) or almost a third (28.9%) of the world's GDP based on World Bank's 2018 data.
Azmin said RCEP's signatories are also able to enjoy "preferential treatment" through the abolishment and progressive reduction of tariffs, while the reduction of non-tariff measures is among the main benefits for Malaysia.

The exposure of local products in the international market can be achieved by standardising exports and imports procedures, as well as information sharing between the countries involved.

MIDF Research projected that the agreement will lead to an increase of RM16 billion a year in GDP, while Malaysia External Trade Development Corp projected for the country's export to the RCEP market to increase RM21 billion a year.
"Local companies can integrate into the global value chain with the supply of raw materials, components, pre-made and ready-made items in the market.
"The integration will be further strengthened through the rules of origin, which is easier to be utilised following the standardisation between all RCEP participants.
"Besides, the RCEP is expected to expedite economic recovery for the region and the country postCovid-19," Azmin added.
The Malaysian government signed the agreement last month which serves as a vital instrument to assist economic recovery, and will encourage the reopening of markets while ensuring interrupted supply chains.
Prime Minister Tan Sri Muhyiddin Yassin previously said FTAs are able to help sustain competitiveness via promotion of international trade, encouraging investments and ensuring supply of talent.
Therefore, the RCEP will be the main tool to enhance regional economic integration within Asean and its dialogue partners.
It was also previously reported that the agreement would largely benefit the e-commerce industry as demand for warehouses and storage facilities is expected to increase.
Source : https://themalaysianreserve.com/2020/12/23/rcep-to-enable-local-industries-to-enter-global-market/