Advertisement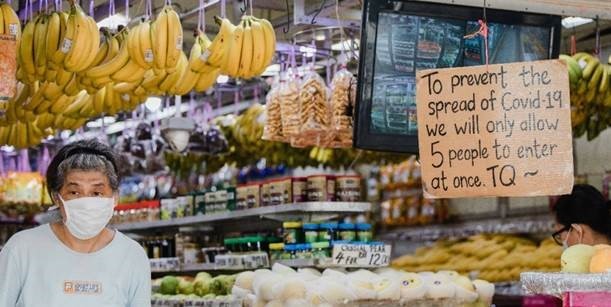 Image credit: World Bank Blogs
Malaysia's retail industry may be seeing pockets of improvement in sales, but many retailers are still struggling to make up lost ground and return to pre-Covid-19 pandemic performance levels. What makes things worse is the uncertainty of when and if things will even go back to normal for these retailers.
Compounding the challenging operating environment is the fact that the six-month loan moratorium offered by banks will come to an end next month. Then, retailers will not only have to deal with having to service their loans but also with declining sales as consumers tighten their belts as they too would have to start servicing their loans.
In an interview, Retail Group Malaysia (RGM) managing director Tan Hai Hsin tells The Edge that the majority of retailers are, at best, making just half of what they were making in 2019. In fact, he is predicting more store closures from October.
"While many [retailers] are definitely getting more business compared with the lockdown period, they are not back to 2019 levels. Most retailers have regained just 50% of their business compared with the same period last year," says Tan.
He points out that spending patterns have somewhat normalised, but "the quantity [consumers' purchases] is less [than previously] due to reduced purchasing power".
"We expect store closures to accelerate after Sept 30 when the moratorium ends. During the past 2½ months, since the Recovery Movement Control Order (RMCO) started on June 10, many retailers have been trying to generate as much cash as possible to be able to pay their business loans from October. For retailers who fail to get sufficient business during this RMCO period, they may have to close down after the moratorium ends," says Tan, who has been tabulating retail data for the past 23 years on behalf of the Malaysia Retailers Association (MRA).
He reiterates that those whose businesses were already struggling before the pandemic are likely to shut them permanently. "Retailers who are highly geared due to aggressive expansion during the last few years will have to [discontinue] their plans and restructure their businesses," he says.
RGM had estimated on May 10 that 15% of the total retail supply or at least 51,000 stores would close within six to eight months. In July, Deputy Domestic Trade and Consumer Affairs Minister Rasol Wahid said a total of 4,542 businesses had shut down between April and June. Tan believes many of them were retailers.
Already, there have been several casualties of the pandemic disruption. In June, Eastern & Oriental Bhd shut the The Delicious Group chain of restaurants while Naza Group shuttered the BLVD House in Platinum Park, Kuala Lumpur — a restaurant featured in the movie Crazy Rich Asians. Hong Kong-listed fashion distributor Esprit Holdings also shut all of its stores in Malaysia, as did US-based NYX Cosmetics. Last week, Swarovski was the latest retailer to announce that it was shutting its outlet in Bangsar Village, KL.
Tan says it is difficult to predict when things will improve. "Maybe this is the new norm. We should not expect the retail industry to be the same as 2019 or earlier. Retailers need to accept this new norm instead of waiting for the market to recover (to pre-Covid-19 levels). They need to strategise their business model to adapt to the new market conditions."
According to him, there are cafés and retail stores that are still reluctant to change and are only willing to accept cash. "Many retailers with physical stores refuse to set up online stores," he notes.
Interestingly, between April and June, registration of new businesses surged by 82,555, with most of them being online businesses or from the e-commerce sector.
No spillover effects from rally
Retailers are also losing out in an area that has traditionally contributed to sales growth. In the past, when the stock market performed well, it was reflected in increased retail sales as the bullishness created a feel-good factor among consumers.
"This time around, the trend is different. The extra-hot stock market is encouraging retail investors to reinvest in the stock market to earn even more money. We do not see the active stock market benefiting the retail sector at all," says Tan.
The Edge had reached out to Tan to get his take on how the retail industry is performing and what his expectations are for the April to June period, following the announcement that the economy had contracted 17.1% in 2Q2020 — the lowest ever recorded in the nation's history. The last time GDP was at its lowest was in 4Q1998 at 11.2%.
Tan, who is still in the midst of compiling retail data from MRA members, says the numbers will be released in September and will take into consideration the likely extension of the RMCO, resumption of loan servicing, recovery of both the local and global economy, retrenchments, salary cuts — which are likely to continue until end-2020 — and lack of year-end bonuses. Until then, the previous projection of a 28.8% plunge in retail sales in 2Q2020 and a full-year retail contraction of 8.7% stays.
Since the start of the RMCO, Tan has been going out almost every day to visit commercial centres and shopping centres in the Klang Valley to study and record his observations. "So far, I have not been able to establish a trend in terms of retail closures," he says, adding that they were not confined to particular types of business.
"Closures are found among national chain retailers (those with more than three outlets) and independent retailers. All areas have been affected, including city centres, residential townships, large commercial centres as well as high- and low-income ­areas."
Tan admits that a few of the earlier assumptions and predictions on closures had turned out differently. RGM had expected small-scale and independent retailers to be worse hit, but witnessed that it was not necessarily the case.
He observes that Kenanga Wholesale City and GM Klang, which are tenanted by thousands of small retailers and distributors, remain unaffected. "I did not see many closures in these malls due to the pandemic," he says.
However, while many vacant shops were spotted in the affluent Jalan Telawi area in Bangsar and the strata shop area in Solaris Dutamas, it was different in Taman Tun Dr Ismail and the Desa Sri Hartamas commercial centre.
Another observation made by Tan is that store closures in the commercial centres that catered for the middle-income group were higher in Bandar Baru Sri Petaling, Cheras Traders Square, Kota Damansara and Bandar Mahkota Cheras. But the closures "were not as alarming in Damansara Utama, Damansara Jaya, Petaling Jaya's Section 14, Setia Alam and Bandar Bukit Tinggi Klang". And few outlets were shut in areas where the lower-income group lived, possibly because rents were low to begin with.
Are retailers at shopping centres doing better? Again, there is no specific trend to indicate the impact of Covid-19 on malls based on their geographic locations. "All shopping malls in Malaysia have been affected by the pandemic," says Tan.
He adds that while established landlords with multiple shopping centres nationwide are expected to fare better due to their financial resources and bargaining power, it is not necessarily so. According to him, even they are finding it a challenge to fill up vacant shops.
Shopping centres that lost their anchor tenants this year continue to see their occupancy rates suffer. It is worth noting that Giant has shut dozens of stores, including that in OUG Plaza. Similarly, Ben's Independent Grocer has shut its store in DC Mall in Damansara Heights.
Without naming the malls, Tan points out that established shopping centres that have been enjoying high occupancy rates since opening are now suddenly finding it difficult to find tenants for prime lots. On the flip side, shopping centres that had vacant lots at end-2019 are now enjoying improved occupancy. These include Avenue K in Jalan Ampang, Mid Point in Pandan Indah and Amerin Mall in Balakong.
Also, while some brands have exited, some malls are seeing the entry of new foreign brands. According to Tan, France's Karl Lagerfeld, Italy's Brunello Cucinelli and Australia's Calia are now at Pavilion Kuala Lumpur. Germany-based A. Lange & Söhne has started a store at Suria KLCC while Realme of China has opened its first physical outlet in Malaysia at Nu Sentral.
On a positive note, Tan does not see any malls shutting down permanently as many of them have been able to survive on low rents and/or low occupancy rates even before the pandemic.
Source: https://www.theedgemarkets.com/article/no-sign-retail-industrys-recovery-2019-levels