Advertisement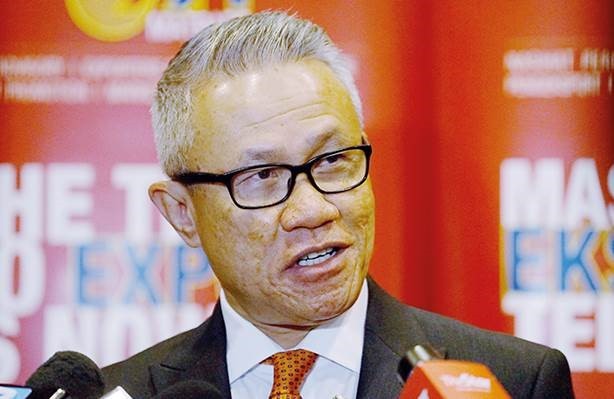 The Malaysia External Trade Development Corp (Matrade) encourages local exporters to participate aggressively in virtual trade promotion amid the Covid-19 pandemic.
Several new initiatives have been introduced by Matrade to sustain export promotion programmes during the pandemic, including virtual trade shows, eBizMatch, MyExport Portal and webinars.
"Through our eBizMatch programme, Matrade has organised various buyer-seller engagements via digital platforms to ensure that Malaysian companies have access to the international buyers even during the travel restriction periods," Matrade chairman Tan Sri Halim Mohammad said in his speech, read by CEO Datuk Wan Latiff Wan Musa (picture) at the launch of eNational Export Day 2020 (eNED2020) yesterday.
"Until Aug 31, 2020, the programme managed to match 423 foreign buyers with 586 Malaysian companies through 628 meetings, resulting in potential sales of RM483.21 million. Among the products and services sourced were disposable medical devices, lifestyle products, building materials, and information and communications technology services," he added.
eNED2020 is the first virtual Export Day conference by Matrade since its inception in 2016.
Matrade anticipates more than 1,500 companies to register for the event and more is expected to participate through social media.
eNED2020 offers even more value for participants as it highlights key insights to guide exporters to emerge stronger from the Covid-19 crisis, unlocking new potentials for greater resilience and reimagining the future beyond the pandemic.
Meanwhile, Deputy International Trade and Industry Minister Datuk Lim Ban Hong who was also present at the launch, urged Malaysian companies, especially small and medium enterprises, to expedite the adoption of digitalisation and seize the opportunity created by the rapid digitalisation globally.
He added that Malaysian companies should leverage public-private sector collaborations to advance their cause in the global market.
"In the new norm, digitalisation plays an important role, especially in reaching out to foreign buyers as well as enhancing trading with other nations.
"Hence, the Ministry of International Trade and Industry via its agency Matrade will double the efforts to intensify export sales by leveraging digital platforms," said Lim.
Matrade will also organise Digital Kuala Lumpur International Aerospace Business Convention from Nov 17 to 20, 2020.
The event will provide a virtual platform for Malaysian aerospace industry players to connect with global original equipment manufacturers such as Airbus SE, Boeing Co, Safran SA, Bombardier Inc and Rolls-Royce.
Source: https://themalaysianreserve.com/2020/09/09/exporters-encouraged-to-participate-in-virtual-trade-fairs/