Advertisement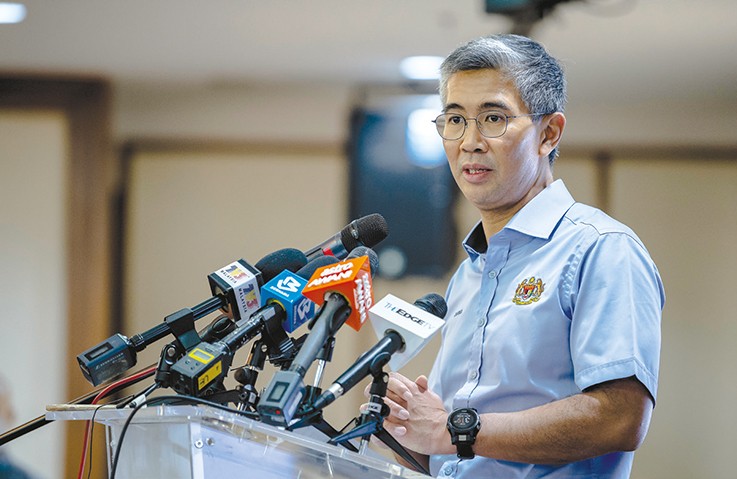 THE wage subsidy programme under the Prihatin Rakyat economic stimulus package has saved 2.4 million jobs to date.
When presenting the 10th report of the Prihatin and the short-term National Economy Recovery Plan (Penjana), Finance Minister Tengku Datuk Seri Zafrul Tengku Abdul Aziz (picture) announced that RM4.89 billion was approved for 303,596 employers, benefitting more than 2.4 million employees as of June 19.
"While the unemployment rate is expected to go up in the coming months, measures under the Prihatin and Penjana packages are aimed at containing the unemployment rate," he said yesterday.
Tengku Zafrul also said the expanded Wage Subsidy Programme under Penjana — which took effect on June 15 — employers can now apply for the wage subsidy for their workers who have been put on unpaid leave.
"The government is targeting that this, coupled with the reopening of almost all economic sectors, will result in an improvement especially in the third and fourth quarters of this year," he added.
He also claimed that the government has received information about errant employers who did not pass on the wage subsidy to their workers.
Tengku Zafrul warned that it is a violation of the law and terms of the programme, and stressed that the government will take serious action on these employers.
"I hope this particular stimulus package will not be abused and the onus is on the employers to be more responsible. Do not take advantage and mistreat your employees," he added.
In April, Malaysia recorded an increase in unemployment rate to 5%, because of the closure of various economic sectors during the Movement Control Order (MCO) and Conditional MCO to contain the Covid-19 pandemic.
"To compare, the current unemployment rate in the Philippines is 17.7%, India (23.5%), US (13.3%) and China (5.9%). Many European countries are also experiencing double-digit unemployment rates," Tengku Zafrul highlighted.
He reiterated that the various upskilling programmes under Penjana are also aimed at preserving the capacity of the workforce, so that businesses can restart and scale up quickly as the economy recovers.
"Under Penjana, there is a RM2 billion allocation for programmes for youths and the unemployed, particularly in priority sectors like electrical and electronics, and information and communications technology.
"This initiative is expected to benefit over 200,000 individuals," he added.
Prihatin Special Grant
Tengku Zafrul also stated that payments for the Prihatin Special Grant (GKP) amounting to RM3,000 for each micro small and medium enterprise (SME) had commenced on June 15. For micro SMEs under further review, if found eligible, payments will be disbursed from June 29.
"The total GKP disbursed is roughly RM1.57 billion, benefitting 524,446 micro SMEs. The government hopes that this grant will, to some extent, help the micro SMEs in restarting their businesses," he added.
EPF's e-CAP
As for the Employees Provident Fund's (EPF) Employer Covid-19 Assistance Programme (e-CAP) up to June 19, 34,246 applications had been received, and 8,489 applications were approved, amounting to RM56.8 million in terms of employer's contribution.
This is an increase from RM47.9 million recorded last week.
Nevertheless, Tengku Zafrul believes with the gradual reopening of economic sectors since May 4, this amount is expected to decrease in the coming months.
Loan Repayment Moratorium
As of June 19, the estimated value of the moratorium on loan repayment is RM43.7 billion, out of which, a total of RM15.3 billion was utilised by the business sector, while RM28.4 billion was utilised by the people via financing qualified for the moratorium.
Bantuan Prihatin Nasional
Between June 12 and 19, RM40 million in cash had been disbursed to 40,000 Bantuan Prihatin Nasional (BPN) recipients through Bank Simpanan Nasional branches nationwide.
A total of 10.19 million recipients had received the assistance as of June 19, which amounted to BPN payments of RM10.88 billion. That is a 97% implementation rate.
"The 181,000 successful appellants will receive their assistance valued at RM162 million beginning tomorrow," Tengku Zafrul said yesterday.
For the EPF i-Lestari programme, a total of 4.3 million applications were approved with a value of RM2 billion a month as of June 19.
Tengku Zafrul also touched on the country's economic situations and suggested that the Malaysian budget deficit is projected to increase between 5.8% and 6%.
He also reckoned that the debt level — currently at 52% — may reach the statutory limit of 55% later this year, due to the measures implemented under Prihatin and Penjana aimed at saving lives and livelihoods, as well as stimulating the economy.
"Moving forward, the government is committed to fiscal discipline, to reduce the fiscal deficit to below 4 % within the next three to four years.
"On our debt level, I have reiterated on many occasions that 97% to 98% of our debt consists of domestic borrowings. This is imperative as it means that our exposure to foreign currency fluctuations is limited," he said, adding that the government's commitment to fiscal discipline remains.
Source : https://themalaysianreserve.com/2020/06/24/govts-wage-subsidy-programme-saved-2-4m-jobs/