Advertisement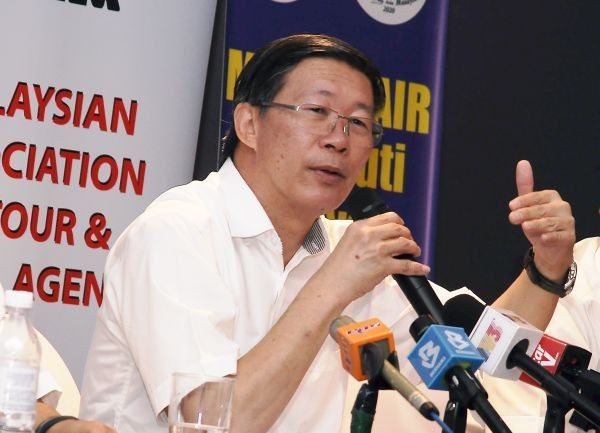 PETALING JAYA: The Malaysian Association of Tour and Travel Agents (MATTA) has urged banks to simplify procedures for loans so that small and medium-sized tourism players can face the current economic challenges.
MATTA president Datuk Tan Kok Liang (pic) said they received feedback from tourism players on the challenges related to certain conditions and processing time.
"They find it hard to qualify if banks still choose to evaluate applicants based on traditional criteria, with high obstacles and terms and conditions, during these extraordinary times, " said Tan, who was a panellist at the Covid-19 Bread and Butter Series: Banking, Finance and Leasing for the Tourism Industry webinar yesterday.
The forum, moderated by MATTA honorary secretary-general Nigel Wong, was the second in a three-part series organised by MATTA in collaboration with Star Media Group Bhd.
"We understand that these loans are up to 80% guaranteed by Credit Guarantee Corporation Malaysia Bhd, or Syarikat Jaminan Pembiayaan Perniagaan (SJPP). The banks should simplify the procedures. Don't take months or weeks to approve loans, " he pointed out.
He added that small players had complained about being held back by the need to present updated audited accounts and latest bank statements.
Tan said SMEs could access three financing facilities under the Stimulus Package – RM5bil Special Relief Facility (SRF) allocation (to alleviate short-term cash flow problems faced by SMEs affected by Covid-19); RM1bil Agrofood Facility Allocation (to increase food production for domestic consumption and export) and RM300mil SME Automation and Digitalisation Facility Allocation (to incentivise SMEs to automate and digitalise operations to improve productivity and efficiency).
He said the Association of Banks in Malaysia (ABM) had on April 10 announced that financial institutions had approved 1,300 applicants under the three facilities, with funds totalling RM682mil.
"We hope tourism companies' loans are included among the 1,300 applicants, " he said.
Tan also claimed that credit and leasing companies were not following Bank Negara's directive on the six-month moratorium on loan repayments.
"The government has called for lender organisations registered under the Moneylenders Act 1951 to provide facilities to provide a moratorium of SME instalment payments for six months beginning April. We only have three months, and then we have to re-apply, " he said."To date, we do not see much cooperation and they had remained unsympathetic with the difficulties that bus owners are facing.
"This is alarming as the majority of tour operators have fleets of vehicles that are a significant component of the tourism industry, " he stressed.
"There are currently some 6,508 permits for tour buses, and 11,708 hire-and-drive permits. Under the current scenario, we can expect repossession by leasing companies due to defaults on loan repayment.
"Unless a longer moratorium or debt restructuring is done, we are looking at a large number of tourism vehicles at the repossession stockyard, with book debts over RM500mil, " he said.
Tan also said the threshold of companies "inability to pay debts" should be raised from RM50,000 to RM100,000 during this period to minimise winding-up petitions by creditors.
"We also urge the government, and particularly Bank Negara, to reassess the situation on the fifth month on the likelihood of further extension of the six-month moratorium to minimise repossession of vehicles and winding up of SMEs, " he said.
"If funds are hard to come by, then there is no stimulus package. Resuscitated tourism companies need working capital in preserving jobs and paying taxes when the economy rebounds, " he said.
He added that the Tourism Minister had announced that an estimated one million employees in the tourism sector would lose their jobs."Commercial banks have a critical role to play in ensuring our country's economic fabric remain intact. They can support us by effectively utilising the liquidity made available by Bank Negara by lending to businesses that are in need of lifelines.
"This is to ensure the tourism industry remains resilient, " he said, adding that MATTA's recent survey has revealed that 69.5% of its members would not "close shop", and that they hope the tourism industry would stabilise by June next year.
Alliance Bank Malaysia Bhd group SME banking head Ernest Kwong Kah Wah, who represented ABM, said banks looked at various aspects of viability for responsible financing, adding that SMEs should discuss with their banks if they could not revive their businesses within the stipulated time.
He said banks had no intention to kill businesses and foresees more loans to be approved to assist SMEs.
"To apply for a loan, entrepreneurs must have the ability to pay, or debts will only be a problem later, " added Kwong.
Fellow speaker, Taylor's University Associate Prof Dr Hafezali Iqbal Hussain, said the sustainability of the tourism sector depended on how players formulate plans and activities to meet customer expectations.
Prof Hafezali said industry players needed to leverage technology to offer a smooth experience for customers to boost domestic and international travels and to encourage spending.
Source : https://www.thestar.com.my/news/nation/2020/04/30/simplify-loan-application-process-urges-matta