Advertisement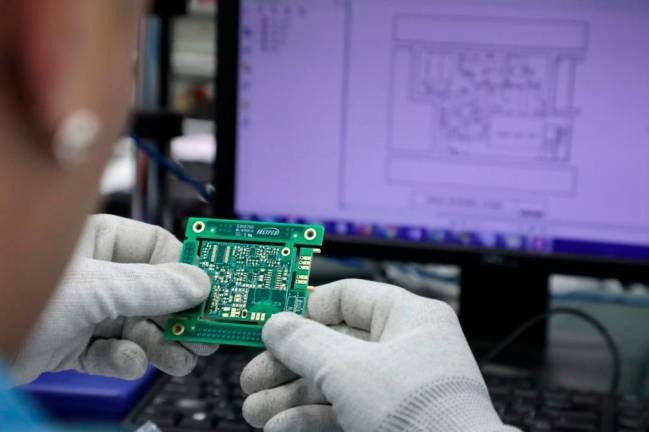 PETALING JAYA: The movement control order (MCO) is expected to translate into approximately 4% downside to 2020 revenue for the Malaysian electronic manufacturing services (EMS) sector, according to CGS-CIMB Research.
It noted that the sector is likely to face a larger downside to its earnings in anticipation of declining margins due to existing fixed overheads such as rental and staff costs.
"We think that a potential contingency scenario to make up for the two weeks of shutdown would include ramping up production (such as additional shifts and Sunday operations) after the MCO period," it said in a report.
However, CGS-CIMB understands that the EMS players are actively seeking authority approvals to continue operations during the MCO period under the stipulated conditions, as outlined by the Ministry of International Trade and Industry.
While supply chain concerns are diminishing as China factories resume operations, the research house said a bigger uncertainty is in the global end-demand for consumer electronics, which forms the bulk of products manufactured by the EMS players under its coverage.
"We gather from channel checks that the order visibility for some export-based manufacturers have already reduced, from six to 12 months to as short as a few weeks, in light of the Covid19 pandemic," CGS-CIMB explained.
"The slowdown is compounded by potential logistical bottlenecks and reduced footfall in consumer electronic retail outlets."
Year to date, the share prices of Malaysia's EMS players under CGS-CIMB's coverage have declined 46% to 60%, with the aggregate sector's price-to-earnings ratio (P/E) hovering around 7.6 times CY19 P/E.
Overall, CGS-CIMB reiterated its "overweight" call on the sector. It said the gearing levels for EMS players under its coverage remain comfortable with SKP Resources in a net cash position of RM189 million, while the net gearing for ATA IMS and VS Industry hovers around 0.04-0.09 times.


Source : https://www.thesundaily.my/business/local-ems-sector-could-see-4-downside-to-2020-revenue-due-to-mco-research-firm-DM2169151