Advertisement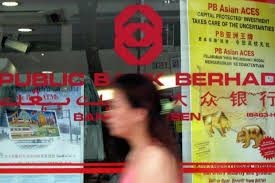 KUALA LUMPUR: Public Bank is offering immediate moratorium of up to six months for the monthly instalment payments of loans and financing for individual and business customers affected by the Covid-19 outbreak.
Public Bank managing director, Tan Sri Tay Ah Lek said under the relief assistance programme for loan repayment, the bank will continue to accommodate requests by the affected customers to restructure or reschedule their loans and financing, to assist in their cash-flow situation during this difficult time.
"As the outbreak escalates, Public Bank will continue to be very active in providing financial relief measures to help all its customers to alleviate their financial difficulties, " he said in a statement.
Tay added the banking group was also providing uninterrupted services during the movement control order period. They will be operating as usual during the period of the Government's Movement Control Order (MCO) from March 18 to 31.
Public Bank's total branch network will remain open as per normal business hours throughout this period.
Accesses to all the bank's services, such as self-service terminals, loan applications and deposit businesses, remittance and card services will remain uninterrupted.
For the safety and health of its customers and employees, the Bank will practise crowd containment and management measures at its branches.
Public Bank's online banking channels remain uninterrupted. For banking transactions, customers are advised to utilise the bank's electronic banking, mobile banking and other online services, as part of its social distancing measures to ensure effective containment of Covid-19 outbreak.
Tay said Public Bank was working concertedly with Bank Negara Malaysia to offer the special relief facility to SME customers during this challenging period.
"The Bank has enhanced its internal processes to facilitate faster loan approval and disbursement to assist eligible SME customers to overcome their financial constraint amid this difficult situation.
"SMEs which intend to apply for the Special Relief Facility are advised to approach any Public Bank branches, or email to pbbsmesupport@publicbank.com.my, for financial advice and assistance, " he said.
Customers who have any enquiries or require assistance may contact the bank's toll-free number at 1800 22 5555.
Source : https://www.thestar.com.my/business/business-news/2020/03/19/public-bank-offers-relief-aid-for-loan-repayment-under-covid-19