Advertisement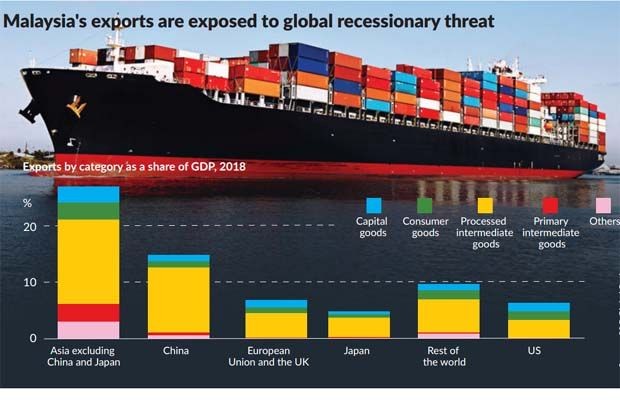 PETALING JAYA: Brace for the next recession, pundits have warned as central banks and governments scramble to unleash their financial bazookas to save the flailing global economy.
Some 12 years after the previous devastating global economic turmoil, one of the Big Three ratings agencies thinks that the world will enter into recession in 2020, with "a recession across Asia-Pacific now guaranteed." S&P Global Ratings estimates the impending recession to result in US$400bil permanent income losses this year.
Unlike the 2008 global financial crisis, the cause of the next recession will not be primarily triggered by the financial sector meltdown.
This time around, S&P Global said, a recession will be triggered by the novel coronavirus (Covid-19) outbreak that has led to a deep first quarter shock in China and the shutdown of activities across the G7 economies.
It added that a loss in household and business confidence in these economies will translate into severe and more persistent supply and demand shocks across the region.
The projected economic shock would also lead to rising unemployment rates in Asia-Pacific countries, according to the ratings agency.
"By recession, we mean at least two quarters of well below-trend growth sufficient to trigger rising unemployment. Asia-Pacific growth in aggregate will likely more than halve to less than 3%.
"The rising scale of the shock will leave permanent scars on balance sheets and in labour markets, resulting in a more drawn-out, U-shape recovery.
"We will flesh out forecasts for the region soon but we should expect downward revisions of about 0.5 to one percentage point across the board, " stated S&P Global in a report issued on March 17.
The report also cited Malaysia as one of the Asia-Pacific countries most exposed to a final demand shockwave from the US and Europe.
According to S&P Global, nearly 10% of the Malaysian gross domestic product is exposed to final demand from the US and Europe, given its trade-oriented economy.
For context, Singapore is ranked first in the region as about 17.3% of its economy is exposed to final demand from the US and Europe, followed by Vietnam (15.2%) and Thailand (11.1%).
"While these comprehensive data are lagging--we only have the 2015 results - they tend to be sticky over time and likely provide a fair reflection of current exposures.
"Exposures may be somewhat smaller now, reflecting the rising importance of demand from China - but still in the ballpark, " said the ratings agency.
Meanwhile, Bloomberg also reported that Morgan Stanley and Golman Sachs have declared that a global recession is imminent
While the slump is likely to be worse than the 2001 dotcom crisis, the report said it would not be as deep as the previous recession in 2009.
"Morgan Stanley's team, led by Chetan Ahya, said a worldwide recession is now its "base case, " with growth expected to fall to 0.9% this year. At Goldman Sachs, Jan Hatzius and colleagues predict a weakening of growth to 1.25%.
"S&P Global added its voice to the chorus with a report expecting that growth would range 1% to 1.5%.
"Both Morgan Stanley and Goldman Sachs anticipate a rebound in the second half, but warn that the risk remains of even greater economic pain, " stated the news report.
Globally, it is a case of race to the bottom as central banks are easing their monetary policy to inject better liquidity into the financial system and support the struggling economy.
Recently, the US' Federal Reserve has cut its benchmark federal funds rate to near zero, back to the levels since the 2008 global financial crisis.
The Bank of England also announced an emergency cut in interest rates to 0.25% from 0.75% earlier taking borrowing costs back down to the lowest level in history.
On the domestic front, Bank Negara has introduced two rounds of cuts to its Overnight Policy Rate in 2020 so far, bringing down the rate by 50 basis points this year alone to 2.5%.
Meanwhile, governments across the world have also been injecting massive fiscal stimulus in an attempt to spur local economic activities.
In the case of Malaysia, former Prime Minister Tun Dr Mahathir Mohamad had announced a RM20bil fiscal stimulus package on Feb 27 to shore up the economy amid the coronavirus outbreak.
Amid the global mad rush to soften the impact of a major economic slowdown, S&P Global said the risks are still on the downside.
"Aside from failure of virus containment, the key risk is that tighter financial conditions trigger destabilization in more vulnerable pockets of the region's financial system.
"Emerging markets, for now, remain most vulnerable to these skew risks, " it said.
Source: https://www.thestar.com.my/business/business-news/2020/03/19/brace-for-recession