Advertisement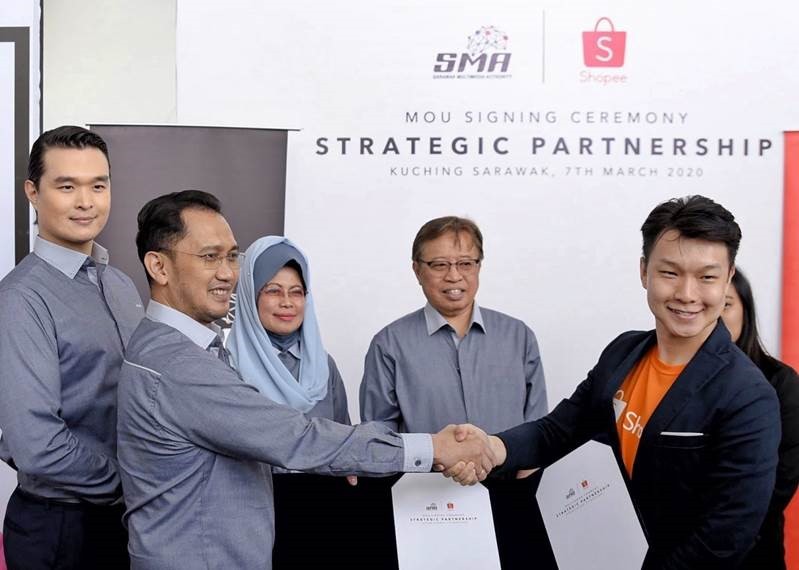 KUCHING: Sarawak Multimedia Authority (SMA) inked a Memorandum of Understanding (MoU) with Shopee Mobile Malaysia Sdn Bhd (Shopee), with the main objective of expanding market access for local products on the e-commerce platform.
The collaboration focuses on complementing initiatives by SMA and Shopee in assisting Sarawak to achieve its target to digitalise its economy. Both parties planned to collaborate on the growth potential of Sarawak e-based commerce and to provide a nationwide reach for Sarawak products and offerings.
The signing of the MoU between SMA and Shopee was represented by SMA general manager Dr Zaidi Bin Razak, and head of Digital Economy Unit Tan Chee Kang while Shopee Mobile Malaysia Sdn Bhd (Shopee) was represented by head of Seller Management Zed Li, and head of Corporate Communications Sharon Roberts.
The MoU coincided with 'The Sarawak Women X Symposium: Global Innovative Entrepreneurship Symposium 2020' which was organised by the Ministry of Welfare, Community Wellbeing, Women, Family and Childhood Development, Jabatan Wanita dan Keluarga Sarawak and SMA. The Sarawak Women's Day was officiated by the Chief Minister Datuk Patinggi Abang Johari Tun Openg.
"The collaboration with Shopee will help to further expand our market and increase the visibility and demand for our local products, as well as enhancing digital entrepreneurship in Sarawak.
"It is vital for our local entrepreneurs to tap into e-commerce to ensure Sarawakians become one of the main players in the global marketplace" said Dr Zaidi.
"As a player in the market, we understand the importance for us to play an active role in helping Malaysia achieve greater economic growth. This has always been our vision since our inception in 2015 – to grow alongside local entrepreneurs.
"We are fortunate that Sarawak and Malaysia are manufacturing and producing state and nation, with unique and good quality products and services.
"Fast forward to today, with over 20 million downloads of the Shopee App across the country, we are able to better serve Sarawak entrepreneurs with nationwide exposure and allow them to market Sarawak-made products more successfully to the rest of the country.
"Through our platform, we hope to achieve shared prosperity for the people of Sarawak, and particularly the entrepreneurs," said Zed Li.
This MoU is in line with the Sarawak Digital Economy Strategy 2018-2022 emphasizing on the e-commerce sector.
Source: https://www.theborneopost.com/2020/03/09/sma-shopee-to-expand-sarawaks-market-in-e-commerce-sector/