Advertisement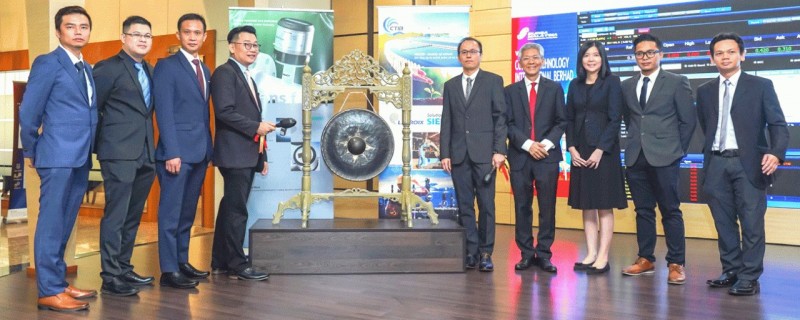 KUCHING: Integrated water technology solutions provider Cosmos Technology International Bhd (Cosmos) intends to expand its reach in Malaysia's water sector with two-pronged initiative of introducing new water digitalisation solutions and expanding its range of fabricated metal products for the water and wastewater industries.
Over the past 15 years, the group has specialised in distributing and servicing Siemens Malaysia electronic flowmeters, used for measuring pipes' water flow, to key water and wastewater players including Pengurusan Air Selangor (Air Selangor), Ranhill as the water operator of Johor, and other state water operators.
Cosmos intends to expand its distribution portfolio to include Siemens Malaysia energy-saving solution for the water and wastewater industries, to enable municipal and industrial users to reduce electricity costs and enhance operational efficiency. The software-based solution is key to the digitalisation and automation of water facilities' operations and management, as well as monitoring of performance and efficiency of plant equipment.
Additionally, through its digitalisation initiative, Cosmos will distribute Lacroix Sofrel dataloggers, which can be integrated with Siemens Malaysia electronic flowmeters, to record and store data on water flow.
The integration of Lacroix Sofrel dataloggers allows operators and authorities to monitor water flow at water treatment plants in real-time, and in industrial and commercial applications.
Furthermore, Cosmos will acquire new machineries under its metal fabrication division to manufacture new products, in order to expand its range of fabricated metal products for the water and wastewater industries. The new products include lamella plates and metal railings for water and wastewater treatment plants, which are commonly used by existing water and wastewater customers under its distribution and servicing arm.
At the Group's listing ceremony to LEAP Market of Bursa Securities yesterday, Cosmos managing director Datuk Chong Toh Wee said that the expansion initiatives are aligned to its vision of becoming one of the leading integrated water technology solutions providers.
"While we have achieved a track record of more than 15 years in delivering solutions to the water and wastewater industry in Malaysia, we recognise the importance of bringing in new and innovative solutions to reach our next growth frontier," Chong said.
"As such, part of the proceeds from our IPO would be allocated to introducing new water digitalisation solutions, by establishing pilot projects featuring Siemens Malaysia energy-saving solution at water and wastewater treatment plants. We are in discussions with water authorities and operators, and are highly encouraged by the positive responses.
"We are also installing datalogging systems in several several test sites with customers in Perak, Selangor, Negeri Sembilan, and Sabah. We are optimistic that equipping our customers with capabilities to remotely monitor water data would in turn assist in addressing the country's non-revenue water (NRW) issue."
In addition to its digitalisation initiative, Chong said Cosmos is enhancing the capabilities and capacity of its metal fabrication division, which further strengthens the group's offerings as an integrated water technology solutions provider.
"To this end, we intend to produce a broader range of fabricated metal parts for the water and wastewater industry on the back of rising demand," he said.
"All said, we are confident that our two-pronged strategic initiatives would not only be a technological game-changer, but also support the government's initiative to ensure the sustainable supply of water as well as operational efficiency of the water sector."
Upon its listing on the LEAP Market of Bursa Securities, Cosmos raised RM5.4 million in proceeds from placees, of which RM1.5 million is allocated for business expansion expenses for energy-saving solutions and dataloggers distribution, RM1.5 million to part-finance acquisition of new machineries, and RM1.4 million for working capital. The remaining RM1.0 million will be utilised for listing expenses.
Cosmos holds multiple appointments from Siemens Malaysia, namely authorised process instrumentation distributor for Siemens Malaysia Automation and Drives Group, and factory automation system integrator as well as process instrumentation Solution Partner for Siemens Malaysia Digital Factory and Process Industries and Drives Division.
In 2018, Cosmos held a market share of 17.7 per cent for electronic flowmeters in Malaysia according to Infobusiness Research.
To-date, there are about 529 water treatment plants in Malaysia.
MainStreet Advisers Sdn Bhd is the Approved Adviser and Continuing Adviser for Cosmos's IPO.
Source: https://www.theborneopost.com/2020/03/10/cosmos-aims-to-expand-presence-in-malaysia/