Advertisement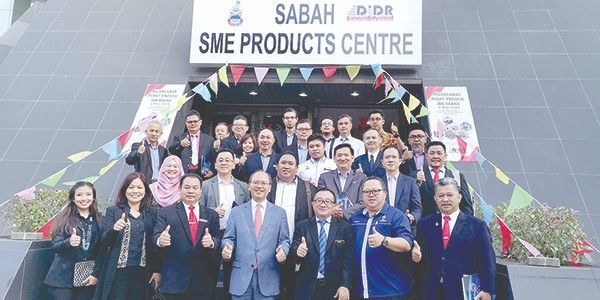 KOTA KINABALU: Small and medium enterprises (SMEs) in the State will have the opportunity to sell and market their products at Wisma Tun Fuad, here.
Deputy Chief Minister Datuk Seri Wilfred Madius Tangau said the building's lower ground area would be appropriate for the purpose.
"We intend to make Wisma Tun Fuad a place where we can get various local SME products.
"We have invited SMEs to exhibit and sell their products here today (Friday) and I am very pleased to see their encouraging response in setting up booths.
"We plan to make the ground floor of Wisma Tun Fuad Stephens as a permanent place for SMEs to carry out their business and promote their products not only to visitors but also tourists," he said after launching the Sabah SME Products Centre, on Friday.
Tangau, who is also Sabah Trade and Industry Minister, said the establishment of the sales centre would also serve as a platform for local entrepreneurs under the Sabah Industrial Development and Research Department (DIDR) to market their products.
He said some 3,000 potential entrepreneurs Statewide had also been identified for that purpose.
On the "One District, One Small Industry (OD1S1)" programme under the ministry, Tangau said the ministry has highlighted the challenges they are facing in developing entrepreneurs and promoting industrialisation in Sabah.
"The ministry is seeking the co-operation of all district offices in Sabah to make this programme and concept a reality as well as facilitating upcoming investments and other matters related to the programme.
"Hence, letters of appointment are issued to officials from each district to be members of the main committee of OD1S1 today," he said.
On the ministry's aims under OD1S1, Tangau said they are looking at having a flagship small industry in each district.
"In the last two years, we have done this OD1S1 where we identified talents of SME entrepreneurs and provide them with training, and we want to follow through as some districts are not very clear on what sort of industry that is viable in that area.
"This is because there might be an industry in those districts but do not have entrepreneurs to drive it.
"Therefore, we have assigned the DIDR to work together with Malaysia Entrepreneurs Development Association (PUMM) Sabah Chapter to go through the programme that we have this time and hopefully able to identify the small industry for each district," he said.
Tangau said he was briefed by PUMM Sabah where DIDR will work with the organisation on the Sabah Entrepreneur Creation (SEC) programme with an aim to produce 100 entrepreneurs in Sabah and to build and guide the SME entrepreneurs to succeed in their respective businesses.
"The SEC programme is in line with the ministry's mission to create an ecosystem to support entrepreneurship in industrialisation development and also to create entrepreneurs to create jobs."
Source: http://www.dailyexpress.com.my/news/148408/sabah-sme-products-centre/