Advertisement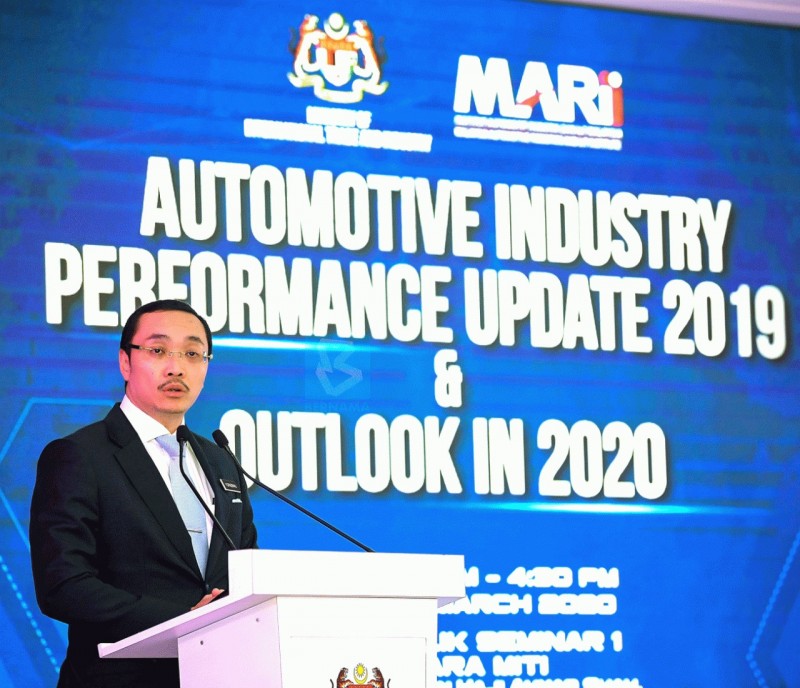 KUALA LUMPUR: The automotive industry contributed an estimated 4.3 per cent to Malaysia's gross domestic product (GDP) in 2019, according to the Ministry of International Trade and Industry (MITI).
Deputy secretary-general (Industry) Datuk Seri Norazman Ayob said the increased volume of domestic sales in 2019 represented a growth of 1.0 per cent despite a challenging 2018.
He said the year forward looks bright for the automotive industry, being a vital sector and one that is facing a high degree of change in megatrends and disruption.
"In 2019, the industry reached 604,287 units of total industry volume (TIV); the result surpassed the 600,000-unit mark in 2015," he said in his opening remarks at a media briefing on MARii's Automotive Industry Performance Update 2019 and Outlook in 2020 here yesterday.
He said energy-efficient vehicle (EEV) penetration in Malaysia had also increased significantly since 2014.
"Year 2019 recorded an achievement of 87.6 per cent in EEV penetration, which was a remarkable growth for the industry in its move towards green technology," he said.
Highlighting other aspects of the sector's performance, Norazman said exports of parts and components by local vendors in 2019 reached RM13.7 billion and have been recording positive year-to-year increases since 2014.
He said the sector also created 65,388 employment opportunities in 2019 and has contributed to a total of 312,565 jobs since 2014.
The country, he said, has more than 20 manufacturing and assembly plants producing passenger and commercial vehicles and motorcycles.
"These numbers are not only impressive but also a testament to how a developing country such as Malaysia could be a strong player in a concentrated industry such as this in the last three decades," he said.
On the industry's outlook for 2020, he said in the long run, new technologies will converge and unlock new mechanisms for creating and distributing value that empowers industries across all verticals to adopt advanced technologies and develop a next-generation manufacturing platform.
"Currently, the automotive industry is adapting dynamically, offering products and services that have potential benefits for consumers.
"This major shift will continue to grow, and the government is determined to work and develop the automotive sector as we advance towards 2020 and beyond," he said.
In conclusion, he said the industry should be made aware that the government was also committed to ensuring that Malaysia continues to prosper, and its wealth and prosperity shared in an equitable manner among all.
"The industry will need to navigate through a number of challenges, indeed grasp the available opportunities and expand in-house capabilities in order to be relevant in the future.
"As such, I call upon all stakeholders, from government agencies to the private sector, to continue to work together objectively to grow the Malaysian automotive industry.
"Indigenous development capabilities will be the focus of the next chapter and we hope the growth of the automotive industry in any upcoming future will be favourable to our nation," he added.
Source: https://www.theborneopost.com/2020/03/04/automotive-industry-contributed-4-3-pct-to-gdp-in-2019-miti/