Advertisement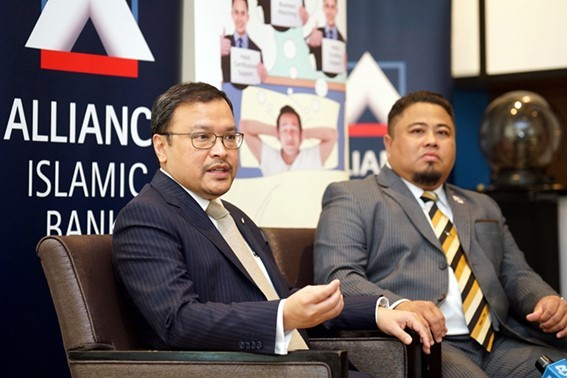 ALLIANCE Islamic Bank Bhd expects up to 3,000 small and medium enterprises (SMEs) to join its "Halal in One" programme, an e-halal enterprise ecosystem formed in partnership with HQC Commerce Sdn Bhd.
For the SMEs, participating in the ecosystem will allow them to capitalise on halal segment opportunities regardless of needs or requirements, Alliance Islamic CEO Rizal IL-Ehzan Fadil Azim (picture; left) said.
"The 3,000 that we plan to reach out to within this year comprise both equipped and non-equipped companies, meaning they can be those that require our guidance and financial solutions or not.
"To date, we have probably reached out to 30% of this total, but we want to be able to include more," he said at the memorandum of understanding (MoU) signing ceremony for the programme yesterday in Kuala Lumpur.
There are also several focus sectors that the banking group wants to extend a hand to.
"Businesses in the food and beverage (F&B) industry, cosmetics and beauty, as well as logistics are of utmost importance to this programme, because these are not only important but also profitable. We've seen them rise in the past years," Rizal IL-Ehzan said.
The programme offers business advisory by halal consultants to help SMEs obtain halal certification from the Department of Islamic Development Malaysia (Jakim).
SMEs can also attend complimentary halal awareness training programmes offered by the bank.
"We will complement the advisory services with halal banking solutions, including special financing, payroll solutions, enterprise takaful and business matching opportunities for halal-centric businesses," Rizal IL-Ehzan said.
The "Halal in One" programme is an inclusive ecosystem that integrates all elements a business needs to grow in the halal segment, such as business advisory and matching and certification.
"We believe that our efforts will go a long way in supporting the government's efforts to establish Malaysia to be a leading provider of halal support services, and centre of excellence in Islamic finance," Rizal IL-Ehzan said.
The bank also plans to build an ecosystem of strategic partners with various expertise in the halal segment to help business owners expand their business.
Interestingly, HQC Commerce CEO Datuk Khairul Shahril Hamzah said the majority of the company's clients seeking halal industry guidance are mostly owned by non-Muslim business owners.
"This is because they understand how big the market for halal products is, and the global appetite is growing rapidly," he said.
Malaysia's halal certification, which is governed by Jakim, is well recognised and respected worldwide, which gives businesses in Malaysia an advantage.
Khairul Shahril added that via the partnership with Alliance Islamic, the company plans to reach out to more business owners and SMEs to grow economically by tapping into the halal market.
The halal industry is expected to grow to US$3 trillion (RM12.28 trillion) in 2023.
While this offers plenty of growth opportunities for Malaysian SMEs, 90% of local SMEs were not halal-certified as of 2018.
Source: https://themalaysianreserve.com/2020/01/08/alliance-islamic-targets-3000-smes-for-its-e-halal-enterprise-ecosystem/