Advertisement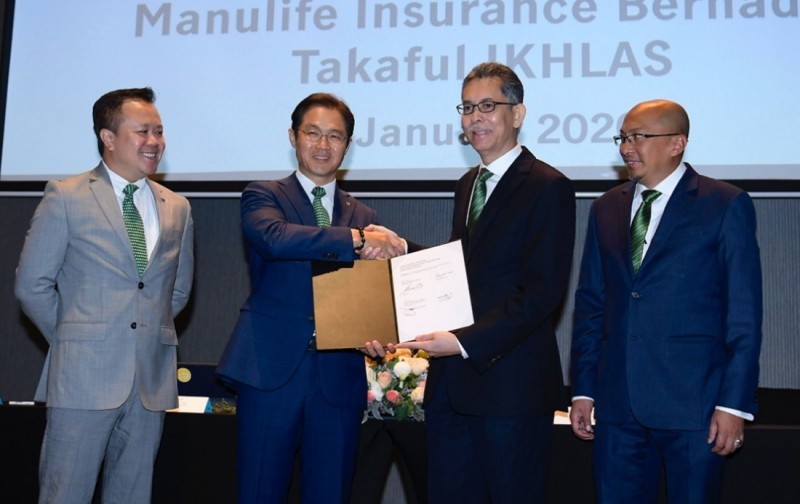 KUALA LUMPUR: Manulife Insurance Bhd (MIB) and Takaful Ikhlas Family Bhd (Takaful Ikhlas) are targeting RM30 million in new business premiums under their five-year strategic partnership.
The companies intend to tap the under-penetrated takaful market in Malaysia which has huge potential for growth.
MIB chief executive officer Lee Sang Hui said in tandem with Malaysia's aim to increase financial protection and takaful life insurance penetration, the partnership was timely and would benefit both companies in the long run.
"Over five years, we estimate roughly about RM30 million will be generated from this partnership," Hui told reporters after the signing ceremony of the alliance here today.
"If you look at the RM30 million over the next five years, the market share is not something that we will be looking at. The most important is that we are able to provide a full product spectrum that includes takaful," he added.
Takaful Ikhlas president and chief executive officer Mohd Din Merican said the partnership was part of its strategy in expanding its agency force to reach a wider set of takaful demographics and new markets.
"The partnership will provide selected manulife agents a platform to make available takaful products to a new customer segment. So far, we are targeting around 100 new agents from Manulife to join us.
"It focuses on four of our products namely Ikhlas Preferred Term Takaful, Ikhlas Savings Prime Takaful that focuses on health protection and savings, Ikhlas Education Plus that is suitable for children's protection and future investment as well as Ikhlas Wanita Elegance, a takaful protection specially crafted for women," said Mohd Din.
He said the takaful industry was expanding at faster pace with a continued unabated growth over the last five years.
"Takaful industry is growing due to the fact that Malaysians are more aware of the takaful concept, hence the demand for takaful products and services have increased tremendously.
"There had been an improvement in the takaful penetration rate from 15.2 per cent in 2018 to 15.8 per cent in 2019. These numbers signify that there is a huge growth opportunity that lies ahead for the takaful segment," he added.
Based on insurance services Malaysia statistics, as at october 2019, the total family takaful new business contribution grew eight per cent. This was more than double the growth of new business for life insurance.
Source: https://www.nst.com.my/business/2020/01/554598/manulife-insurance-and-takaful-ikhlas-target-rm30-million-new-business