Advertisement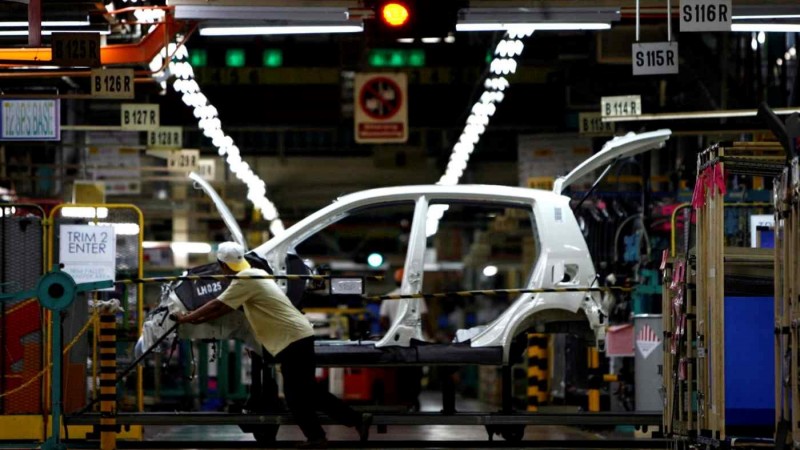 SINGAPORE/BANGKOK -- Malaysia's auto industry is undergoing a government-led mega-merger, bringing together two conglomerates controlling more than half of the market to catch up with the rest of the world's shift to electric vehicles.
Under a deal announced in August, prominent Malaysian group Sime Darby will buy state-owned investment firm Permodalan Nasional's 61.2% stake in UMW Holdings for 3.57 billion ringgit ($761 million). The group plans to make an offer for the remaining shares as well, and delist UMW from Bursa Malaysia. Permodalan also owns 50.3% of Sime Darby.
"This is a strategic move to further scale up and strengthen our presence in the Malaysian automotive sector, adding two highly performing brands into our Malaysian portfolio: Toyota and Perodua," Sime Darby group CEO Jeffri Salim Davidson said. "The deal will cement Sime Darby's position as Malaysia's leading automotive player."
The deal underscores the Malaysian government's view that drastic reform is needed to make the country's auto industry internationally competitive. Thailand produced 1.88 million vehicles last year, and Indonesia 1.47 million, while Malaysia turned out fewer than 800,000.
Sime Darby in 2017 spun off its then-mainstay plantation and real estate operations and has since expanded in areas such as autos, heavy machinery and health care. The group sells vehicles from foreign brands such as BMW and Land Rover, and has joint auto manufacturing ventures with Mazda Motor and Hyundai Motor.
In recent years, the group has emphasized electric vehicles. Sime Darby began selling EVs from BYD last year, and in May it announced a partnership with another Chinese EV maker, Chery Automobile, that is slated to begin production in Malaysia this quarter.
For UMW, autos are at the core of its business. The conglomerate owns 51% of UMW Toyota Motor, which makes Toyota vehicles in Malaysia, and holds a 38% stake in domestic automaker Perodua. Perodua and Toyota ranked first and third, respectively, in new-vehicle sales in Malaysia for the first half of 2023.
The brands under Sime Darby's umbrella have a smaller share of the market.
"With Toyota and Perodua, we will diversify into the mass market segment to complement our presence in the luxury segment, while adding distribution and manufacturing segments to complement our retail business," a Sime Darby representative told Nikkei.
RHB Securities sees the Sime Darby-UMW deal as "largely orchestrated by" Permodalan, given its majority stakes in both conglomerates.
In its press release on the move, Permodalan said it is "in alignment with the Government's New Industrial Master Plan 2030, which will support the automotive sector's further growth especially in positioning the country as the automotive hub for the region."
Sime Darby and UMW have combined sales -- including those outside autos -- topping $13 billion, based on Sime Darby's sales of 48.3 billion ringgit for the year ended in June and UMW's 15.8 billion ringgit through last December. The consolidation is expected to give them more resources to channel into developing new vehicle models and expanding their auto operations abroad.
Although other Southeast Asian countries have focused on attracting Japanese, European and American auto manufacturers, Malaysia has emphasized building up homegrown players. In 1983, then-Prime Minister Mahathir Mohamad established Proton, the country's first national automaker. This was followed by the creation of Perodua in 1993.
Malaysia favors local auto companies with tax breaks while levying high tariffs on imported vehicles. Proton and Perodua enjoy a combined 60% share of the Malaysian market as a result, but they have been slow to improve the quality of their offerings, and have little presence outside the country.
They also lag on electrification. Perodua rolled out its first hybrid model in 2022, followed by Proton this year. Thailand and Indonesia, meanwhile, have attracted Chinese and South Korean EV makers, and Vietnam's VinFast has started manufacturing its own.
Malaysia's New Industrial Master Plan 2030, released Sept. 1, aims to expand manufacturing gross domestic product by an average of 6.5% annually through that year, and calls for launching a locally manufactured EV as part of this effort.
Malaysia targets having electric vehicles and hybrids account for 15% of new-car sales by 2030. But only 2,600 EVs were sold in the country in 2022, a small fraction of the 720,000 new cars sold that year.
Proton, which is not a part of the reorganization, is working to shift to EVs with investment from Chinese automaker Geely.
Whether the country's efforts will strengthen its auto industry remains to be seen.
"Automobile development and production in Malaysia are largely dependent on manufacturers like Toyota," said Hirotaka Uchida, a partner at American consulting company Arthur D. Little. The effects of the integration are expected mainly to be limited to sales influence and cost reductions.
Toyota commented that the reorganization "will have no direct impact on our business." However, requests for local EV production could increase through Sime Darby.
Source: https://asia.nikkei.com/Business/Automobiles/Malaysia-creates-national-auto-champion-targeting-EV-pivot