Advertisement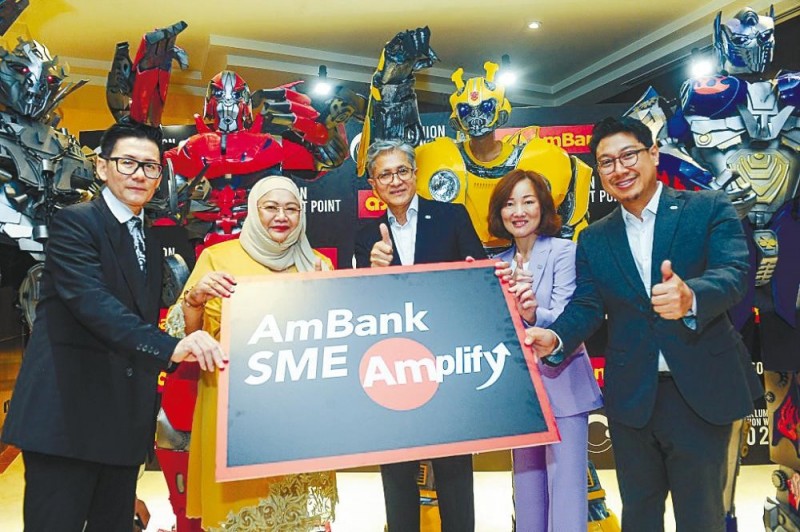 KUALA LUMPUR: AmBank Group Bhd expects double-digit loan growth for its micro, small and medium enterprise (MSME) segment this year, driven by initial public offering and market penetration opportunities, said group CEO Datuk Sulaiman Mohd Tahir.
"(We expect) double-digit loan growth or at least 10%, we are looking at least RM40 million more. It's small but we hope to do more," he told reporters after the launch of Ambank SME Amplify during KL Fashion Week Connect Point 23 yesterday.
Last year, the segment recorded single-digit loan growth.
Currently, the bank has outstanding loans of RM6 billion to about 7,000 retail SME borrowers. Of that total, about 15% or 1,000 customers are in the MSME segment with outstanding loans of RM400 million.
Sulaiman said although the MSME loan size is small, the bank sees an opportunity for it to support the segment until the enterprises potentially go for listing on Bursa Malaysia.
"We want to support the SME business because it is our bread and butter, a large component of our growth has been coming from SMEs but mostly it's coming from the bigger and medium sized SMEs, while the MSMEs are still largely underpenetrated ... it's small, we've got a RM27 billion base, it's only RM400 million" he said.
Touching on Ambank SME Amplify which provides a suite of financing and digital solutions, Sulaiman said the product aims to address the challenges that SMEs or MSMEs face by providing them with easier access to financing.
He added that it launched its product at KL Fashion Week 2023 (KLFW23) to engage with fashion industry players, from manufacturers to designers.
"We have panel sessions, speakers to talk about the business and the business model with the intention to educate them. To expand your business ... people are talking about how to access funding. So the idea of the event is to connect with SMEs," said Sulaiman.
Investment, Trade and Industry Ministry deputy secretary general (investment) Datuk Bahria Mohd Tamil said the fashion, textile and lifestyle industry is a key contributor to Malaysia's economy.
The government is committed to support the growth of the industry which generates billions in revenue and provides employment to a significant number of Malaysians, she added.
"The fashion, textile and lifestyle industry in Malaysia will continue to grow and thrive. The government will continue to aspire the industry players to focus on the production of high value-added products such as high quality niche market items, invest in modern equipment, undertake research to keep abreast with new market demand and development, explore new trade opportunities, e-commerce options and pursuing social media platforms to increase revenues," Bahria said.
The event was organised by KLFW and AmBank in collaboration with Malaysian Investment Development Authority to showcase the latest developments and opportunities in the fashion, textile and lifestyle industry in Malaysia.
Source: https://www.thesundaily.my/business/ambank-expects-double-digit-growth-in-loans-to-msmes-this-year-KH11522091