Advertisement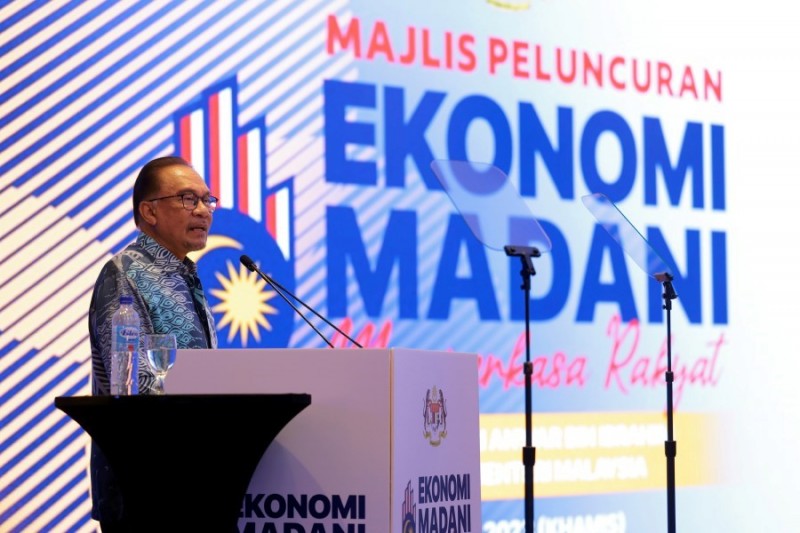 Image credit: NST
KUALA LUMPUR, July 27 — Malaysia aims to elevate its economy to be among the world's top 30 largest in less than 10 years from number 37 in 2022 based on World Bank data by focusing on greater regionalisation and competitiveness, prioritising economic complexity and moving up the value chain.
The main focus is on economic restructuring towards making Malaysia an economic leader in Asia, Prime Minister Datuk Seri Anwar Ibrahim said.
"If we are satisfied only with the current position, our economy will continue to record growth of four to five per cent.
"But if we work hard and implement reforms, we can achieve 5.5 per cent. In fact, I believe it is not impossible to generate growth of 6 per cent," he said at the launch of the Madani Economy: Empowering the People here today.
Anwar, who is also Finance Minister, said that to realise the target, Malaysia must develop greater economic integration with its neighbours, especially with the world facing supply chain disruption.
"Hence we need to create more highly competitive local companies to penetrate the Asean market," he said.
The Prime Minister said the government's efforts must go beyond the free trade agreements.
"For example, trade diplomacy and strategic arrangements can expand bilateral and multilateral market integration and facilitate the movement of goods, capital and human capital, as well as technology sharing with neighbouring countries," he said.
Besides positioning Malaysia as a top 30 major economy, the Madani Economy framework also sets six other medium-term benchmarks to be achieved within 10 years.
Anwar said these include being in the top 12 in the Global Competitiveness Index, employees' compensation to reach 45 per cent of the gross domestic product (12th Malaysia Plan's target is 40 per cent by 2025), women's participation in the workforce at 60 per cent, top 25 in the United Nations Human Development Index, top 25 best score in the Corruption Perception Index, and fiscal sustainability with the fiscal deficit being three per cent or less.
He said the government will introduce tax incentives based on achievements in order to support and incentivise companies that focus on high-impact activities.
"We need to implement reforms so that Malaysia will be counted among the world's 12 best economies in terms of competitiveness and ease of doing business," he said.
Noting the investment commitments made by companies such as Sumitomo Corporation, Tesla, Rongsheng and Samsung Engineering, Anwar said Malaysia must intensify efforts to ensure more companies choose the country as an investment destination.
According to him, Malaysia also needs to internationalise local startups as well as small and medium enterprises.
"Government-linked companies and government investment-linked companies (GLICs) must continue to drive domestic direct investment and support local vendor development in strategic sectors such as electrical and electronics, digital economy and aerospace," he said.
Anwar announced that the government, along with GLICs, will invest an additional fund of RM1 billion to match with private funds in supporting startups and driving technopreneurs.
He said an additional RM100 million will be provided for the matching grants for digitalisation to help micro, small and medium enterprises expedite the transition to a more digital business model.
The government will also add RM400 million to the allocation for micro-loans under various agencies, including SME Corporation, Tekun, Mara and Teraju, he said.
The Prime Minister said the government's immediate-term priority is to rebuild the nation's fiscal capacity.
He said the tax revenue cannot fully cover its operating expenditure, with the tax-to-GDP ratio standing at 12 per cent, the lowest among countries in the region.
"Although fiscal reforms are necessary, the government gives assurance that it will not ignore the people's cost-of-living challenges and will continue to provide assistance to those in need," he added.
Source: https://www.malaymail.com/news/malaysia/2023/07/27/pm-anwar-malaysia-aims-to-be-among-top-30-largest-economies-within-10-years/82018