Advertisement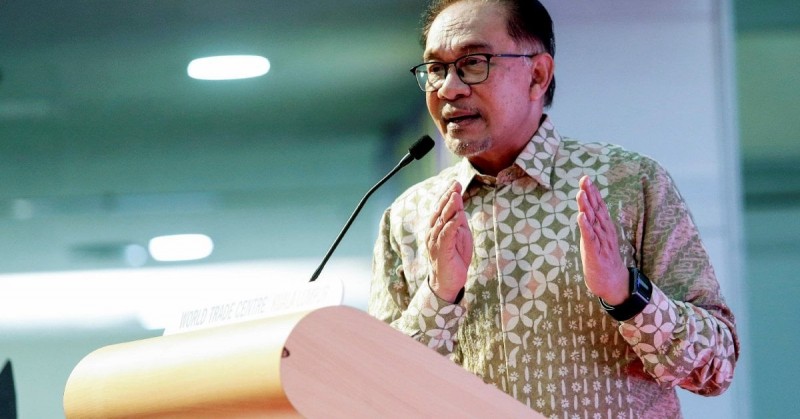 KUALA LUMPUR: Prime Minister Datuk Seri Anwar Ibrahim has invited business groups to submit proposals and inputs to accelerate the implementation of the country's upcoming economic plans.
The government is expected to launch the Industrial MasterPlan in August, the 12th Malaysia Plan Mid-Term Review in September and the 2024 Budget in October this year.
This was extended after the prime minister spoke with business leaders, regulators and economists regarding strategies today to bolster Malaysia's economic growth and domestic investments.
Anwar, who is also the Finance Minister, highlighted some early economic indicators showing positive results of the various fiscal policies and 2023 Budget initiatives despite the multiple challenges inherited by the government last November.
These included the country's strong economic growth of 5.6 per cent in the first quarter (Q1) of 2023, which was higher than the full-year forecast of 4.0-5.0 per cent, and lower unemployment rate of 3.5 per cent than the 5.2 per cent recorded in May 2020.
Additionally, there were RM71 billion of approved investments registered in the first quarter of 2023 (1Q23), which accounted for 60 per cent of increase from RM45 billion in 1Q22.
This figure was achieved on the back of strong interest from Amazon Web Services, Tesla EV, Geely and Proton Automotive City in Tanjung Malim, Perak and Ronsheng Petrochemicals in Pengerang, Johor.
Anwar said the affirmation of Malaysia's credit rating by Fitch and Moody's in February 2023 and April 2023 respectively reflected their confidence in the government's determination to sustain economic growth momentum amid highly challenging global conditions.
He reiterated the government's commitment to driving inclusive and sustainable growth, as well as restoring confidence in public institutions and governance and safeguarding social justice for all Malaysians, in line with the Malaysia Madani vision.
"The government has implemented a wide range of initiatives to promote investments and attract high quality investments which will generate linkages with local businesses and high income job opportunities," Anwar said.
These included the 2023 Budget measures to support SMEs particularly
through the provision of various financing facilities and guarantees worth RM40 billion.
"The government is committed to further facilitate ease of doing business and support domestic direct investments," said Anwar at a dialogue attended by business chambers today.
They included the National Chamber of Commerce and Industry of Malaysia, Dewan Perniagaan Melayu Malaysia, Associated Chinese Chambers of Commerce and Industry of Malaysia, Malaysian Associated Indian
Chambers of Commerce and Industry as well government-linked investment companies and banks.
"To further promote domestic growth, Cabinet has been focusing on accelerating implementation of Government projects and facilitating approvals for businesses such as applications for skilled expatriates," he added.
Anwar also invited members of the public to share suggestions on how to grow the economy with the Finance Ministry through the "Suarakan Pendapat Anda" section at www.mof.gov.my.
Source: https://www.nst.com.my/business/2023/05/915017/government-work-business-leaders-drive-economic-growth-pm