Advertisement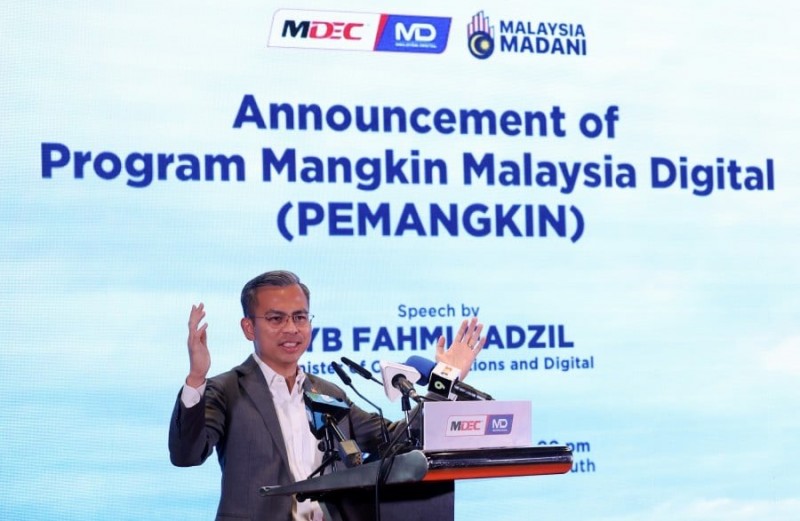 KUALA LUMPUR: Nine focus sectors have been added to the Malaysia Digital Catalytic Programmes (Pemangkin), involving an investment value of RM1 billion.
Communications and Digital Minister Fahmi Fadzil said the programmes under the Malaysia Digital Economy Corporation (MDEC) were expected to generate nearly 49,000 jobs by 2025.
"The nine sectors are digital finance, Islamic digital finance, digital trade, digital agriculture, digital tourism, digital content, digital services, digital health and digital cities.
"These will increase the availability and competitiveness of the programmes and drive innovation and collaboration among industry players.
"We urge the private sector to work with the government to create a more cohesive, inclusive and innovative tech ecosystem.
"There are plenty of opportunities for us to grow together, especially under Malaysia Digital and the rollout of various Pemangkin programmes," he told a press conference after the announcement today.
Present was MDEC chairman Syed Ibrahim Syed Noh and chief executive officer Mahadhir Aziz.
Fahmi said the digital economy contributed 22.6 per cent to the gross domestic product and was projected a growth of 25.5 per cent by 2025.
"This level of contribution makes it imperative for the government and the private sector to work together to chart the way forward for Malaysia's digital economy.
"It underlines our efforts in bolstering Malaysia's position as the preferred choice for digital and tech companies to land and expand in Southeast Asia.
"We are confident that with more of these (focus sectors), Pemangkin will act as a catalyst to equip the nation's workforce with digital skills, spurring technological innovation and attracting foreign investors to set up their operations in Malaysia."
Fahmi said public-private partnerships were key to realising the national agenda in the digital economy.
He said there were many fundamental areas of digital transformation that needed to be addressed as the country progressed with its journey towards creating a sustainable and dynamic digital economy.
Fahmi hoped Pemangkin would benefit large companies and improve living standards.
"It is my hope and also the ministry's that this effort will not only benefit large companies but the people who either get jobs in the digital economy sector or benefit from the available infrastructure.
"For example, those who previously worked at home with digital services can now increase their income through Pemangkin," he said.
Last July, the government rolled out Malaysia Digital, a national digital initiative aimed at further enhancing the nation's digital capabilities and boosting the existing digital economy.
It was also aimed at speeding up the nation's digital economy and subsequently benefiting the people.
Source: https://www.nst.com.my/news/nation/2023/04/900474/9-focus-sectors-added-pemangkin?utm_source=nst&utm_medium=mostpoplatest