Advertisement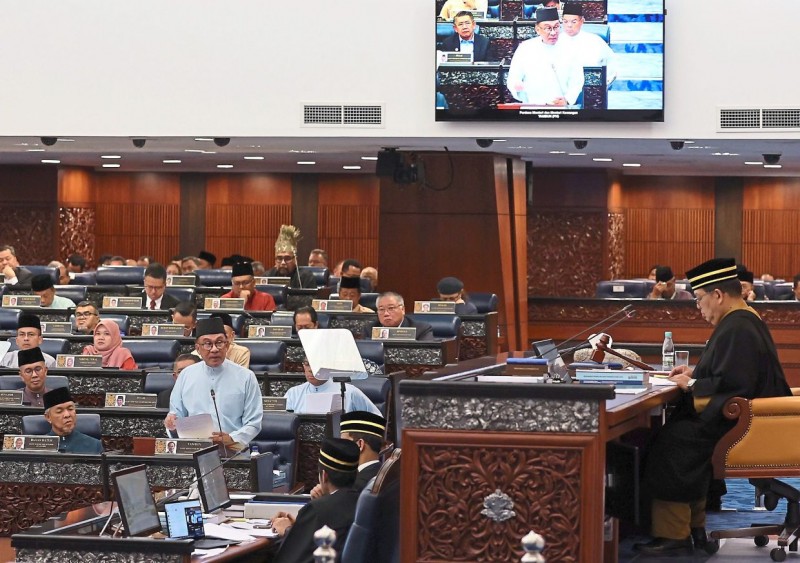 PETALING JAYA: Budget 2023 will encourage economic growth while ensuring a fairer distribution of the country's wealth to help Malaysians in need, says Finance Minister Datuk Seri Anwar Ibrahim.
Tabling his first Budget since becoming Prime Minister, Anwar presented a "realistic" plan featuring measures to help lower and middle income Malaysians struggling with inflation and rising prices.
Malaysians from the T20 (top 20% households) group, however, will have to shoulder a bigger burden through progressive measures, including a new tax on luxury goods and higher income tax.
Anwar also promised to step up efforts to fight corruption and curb leakages in government spending while promoting economic growth and investments.
He said the RM388.1bil Budget 2023, with its theme of Belanjawan Madani, could achieve these aims if everyone worked together.
He urged the political leadership, ministries and the civil service, as well as entrepreneurs and the rakyat, to create new momentum for Malaysia.
"The country can create a new push that will not only be an example for other nations in the region but throughout the world, and at the same time create confidence among the rakyat," he said.
In a 128-minute speech that started at 4.05pm, Anwar highlighted five key challenges facing Malaysia.
Firstly, he said the government had inherited an excessively high debt burden that is set to hit RM1.2 trillion or more than 60% of gross domestic product (GDP) this year.
Secondly, Malaysia is facing a decline due to corruption and abuse of power that had grown to near-systemic levels.
This is reflected in the erosion of the country's ranking in the Corruption Perception Index, which in 2022 saw Malaysia falling to 61st position compared with 29th in 1998.
The third key challenge is an uncertain global economic outlook, while the fourth is a level of investment inflow that has yet to reach pre-pandemic levels.
Lastly, Anwar spoke about economic challenges affecting the people, many of whom were struggling with high food inflation that hit 5.8% last year.
The Prime Minister noted that unemployment last year stood at 3.6% compared to 3.3% in 2019.
"After listening to the people's grievances and the voices of fellow members in this House, I choose to present in the Budget the actual situation and will not try to cloud the people's minds with 'captivating' figures," he said.
Anwar said the government was committed to upholding social justice which would see the country's wealth being distributed based on need.
He said the Statistics Department reported that the country's T20 households controlled 47% or nearly half of household income and 80% of the total amount of savings in the Employees Provident Fund.
"Taking into account the revenue and wealth of the country which is focused on the upper levels or elites of society, it is proper that the distribution of wealth is focused on lower and middle income earners," he said.
The T20 is defined as those with total household income of more than RM10,960 a month, while the M40 earn between RM4,850 and RM10,959.
Anwar said the government would implement a progressive approach in reforming subsidies and the tax structure to protect the less fortunate.
He called for understanding from well-to-do Malaysians in shouldering a bigger share of the burden.
Anwar said the government would take a progressive approach in widening the tax base for those who could afford it, such as a new tax on luxury goods like fancy watches and high fashion.
Budget 2023 is the largest yet, with the RM289.1bil of the RM388.1bil for operational expenditure, RM97bil for development expenditure and RM2bil for unexpected expenditure.
The development expenditure is also the highest yet, being 35% higher than the RM71.6bil last year.
Education received the biggest allocation, a total of RM55.2bil followed by Health (RM36.3bil).
"This increase (in development expenditure) is to focus on poverty eradication programmes as well as maintenance and repairing of public facilities, including those in rural areas," said Anwar.
Source : https://www.thestar.com.my/news/nation/2023/02/25/budget-to-boost-economic-growth-says-anwar