Advertisement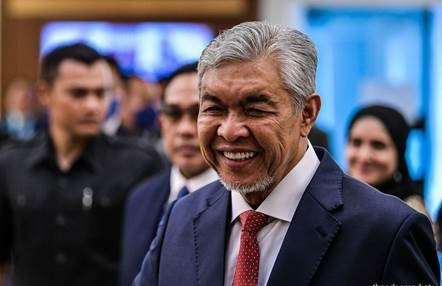 KUALA LUMPUR (Feb 9): Malaysia must climb out of the middle-income trap after languishing more than two decades in the upper middle-income bracket as per the World Bank classification, said Deputy Prime Minister Datuk Seri Dr Ahmad Zahid Hamidi.
Zahid said the fact is if Malaysia fails to up its competitive advantage and attractiveness as a centre for investment, its competitors will forge ahead, which in turn will affect the country's national prosperity and the well-being of ordinary Malaysians.
He said the government is committed to creating an economic environment, where every Malaysian can fulfil their potential whereby entrepreneurs and the spirit of entrepreneurship are of upmost importance.
"Towards this end, the government will continue to cut red tape that hinder businesses and entrepreneurs. Making profit, paying your fair share of taxes, and creating quality employment is a good thing, and it must be facilitated at all levels of government, whether federal, state, or local.
"There must be a continuous mind shift that the private sector is the main engine of growth of the nation, it must prosper for the nation to prosper. Malaysia must get out of the middle-income trap we are currently in, and take our rightful place as a high-income nation within the next five years," he said.
Zahid said this in his speech when officiating a seminar organised by MarkPlus Institute Asean titled "Entrepreneurial Marketing: How to Grow your Business Post-Pandemic" here on Thursday (Feb 9).
Zahid said in the last three years, Malaysia had seen how businesses had been forced to face a host of multifaceted global challenges, including harrowing experiences during the Covid-19 pandemic.
He said moving forward post pandemic, technology is still the single most important factor that continues changing the socio-economic landscape and influencing consumer choices, and so does the human factor.
"The full value of technology will in the end still depend on the human factor. Yes, it is true that to a certain extent, using technology does help businesses to grow and profit, but it has its limits as in the final analysis, it is the people, the talent behind the application, machine and processes that determine the level of outcome.
"Nevertheless in this age of technology, to achieve optimum results, man and technology must continue to be fused together more efficiently and seamlessly. This is true for any organisation, not only in surviving, but thriving," he said.
Apart from that, Zahid, as a parting gift from a former entrepreneur, shared three key "nuggets" of entrepreneurship and marketing that left a strong impression on him, which were to always be on the lookout for opportunities, be nurturing but firm, and everyone should be confident to create and cultivate their own network.
Source: https://www.theedgemarkets.com/node/654558