Advertisement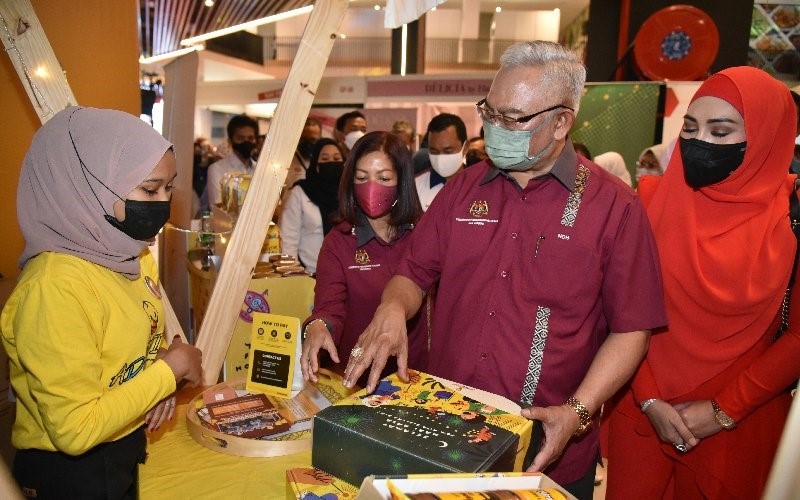 PETALING JAYA: National Entrepreneurship Week (MUN) celebrations concluded on Monday on a high note, with over RM23.6 million worth in sales recorded and business matchmaking potential achieved throughout the MUN.
This is more than double the entrepreneur development and cooperatives ministry's (Kuskop) initial projection of RM10 million in sales.
Around 16,000 visitors flocked to the national-level celebration at the Malaysia Grand Bazaar (MGB) @ Lalaport from June 24 to June 27, as Putrajaya put the spotlight on micro, small and medium-sized enterprises (MSMEs).
Entrepreneur development and cooperatives minister Noh Omar said the MUN was a huge success that even exceeded the ministry's expectation, adding that it was timely with the nation continuing its journey to recovery post-pandemic.
"After two years of not holding the MUN, this year's celebrations have been long-awaited. We are proud of the entrepreneurs who took part, whether to learn how to add value to their products or to put their brands on display.
"I believe that the MUN will serve as a catalyst for many of the MSMEs who took part to develop their business and recovery process," he said.
Held in conjunction with the United Nations' World MSME Day, this year's MUN sought to highlight entrepreneurs' major role as the backbone of Malaysia's economy.
The MUN showcased seminars, workshops, business matchmaking and exhibition booths. Entrepreneurs also got the chance to pick up some pointers from seasoned professionals while putting their products on show.
A wide variety of products were on show, ranging from those in the food and beverage industry to fashion and accessories, beauty and spa, and handicraft.
The venue of the MUN celebration, the MGB, sought to give a platform for budding entrepreneurs to further their business.
Described as Malaysia's first artisanal shopping mall, the 100,000 sq ft space aims to promote up to 100 domestic brands at a time, while paying homage to local artistry through its heritage-inspired architecture.
"Kuskop hopes that MUN will continue to be held annually to encourage the culture of entrepreneurship among Malaysians, thus birthing more and more entrepreneurial families.
"The MUN is in line with the government's 'Keluarga Malaysia' aspirations to make entrepreneurship the career choice of the general community," said Noh.
Organised by Kuskop, MUN aimed to boost entrepreneurs' growth by strengthening their knowledge and skills and to increase the number of quality, competitive and resilient Malaysian entrepreneurs amid the current challenging economic climate.
Source: https://www.freemalaysiatoday.com/category/nation/2022/07/02/over-rm23mil-in-sales-business-matchmaking-in-national-entrepreneurship-week/