Advertisement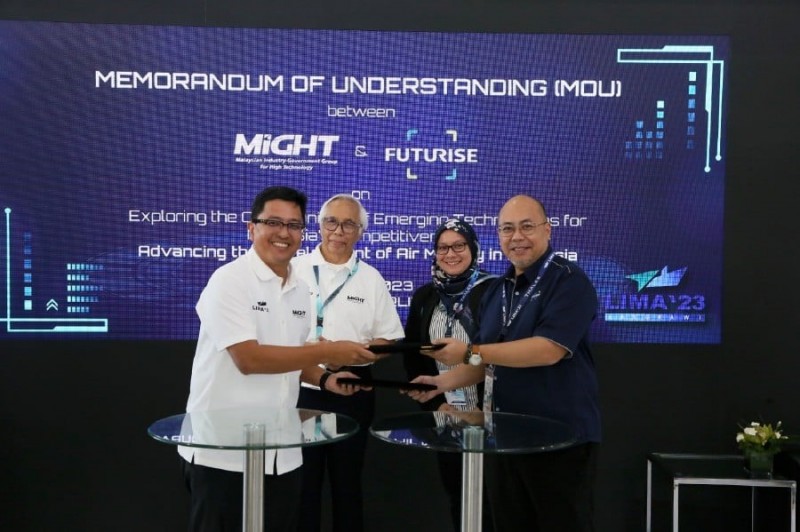 Malaysian Industry-Government Group for High Technology (MIGHT) and Futurise Sdn Bhd will collaborate to explore upcoming technologies in a bid to boost the country's competitiveness.
The collaboration, according to Rushdi Abdul Rahim, deputy chief executive officer of MIGHT, is expected to speed the development of a holistic ecosystem and the promotion of strategic technological applications, ensuring Malaysia stays ahead of its competitors in the high-tech industry.
"In an era of rapid technological change, it is important for Malaysia to be an early adopter in the utilisation and advancement of technologies with high potential thus increasing our country's global competitiveness," he said.
MIGHT and Futurise, a wholly-owned subsidiary of Cyberview Sdn Bhd under the Ministry of Finance inked a memorandum of understanding (MoU) at the Langkawi International Maritime and Aerospace Exhibition (LIMA 2023) yesterday.
Rushdi said the collaboration between the two parties will commence with a study into the advanced air mobility industry due to the level of disruption of the technology and its application in existing industries particularly the transport and logistics industry.
He said this technology has the potential in developing new industries in Malaysia while creating new high-skilled job opportunities.
"The study will establish information and insights on the industry's current state by highlighting issues and challenges while exploring the future outlook and growth prospects of advanced air mobility through trends shaping the future and impact of key drivers of change to identify potential opportunities and risks.
"MIGHT will use and apply its experience in prospecting new business opportunities by leveraging strategic technologies and driving partnerships in technology through a consensus-building platform between the private and public sectors. MIGHT also champions mainstreaming foresight into policy making for a future perspective in accelerating the development of this new industry," he said in a statement.
Source: https://www.nst.com.my/business/2023/05/913108/might-futurise-explore-innovative-technologies-boost-countrys