Advertisement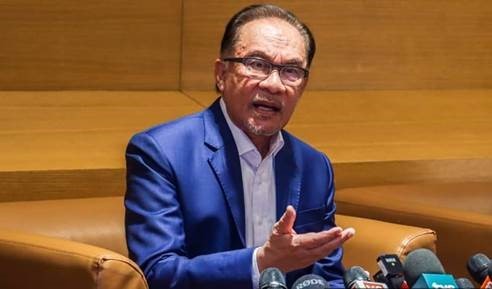 PUTRAJAYA: Malaysia's national debt level, at about 80 per cent of its gross domestic product (GDP), is still within a "comfortable level" but has hit "the upper limit" of the range, economists said.
A comfortable debt level for a country should be in the range of 60-80 per cent, they added.
Prime Minister Datuk Seri Anwar Ibrahim disclosed on Tuesday that the national debt including liabilities now stood at RM1.5 trillion as of 2022, and that it should be addressed urgently.
"The problem with our debt is it has already touched RM1.2 trillion and if includes liabilities, it is RM1.5 trillion. We have to accept this reality. We cannot feel complacent, living with the culture of contentment as if there is no problem," Anwar said during the 2023 Budget dialogue here.
Putra Business School associate professor Dr Ahmed Razman Abdul Latiff said the International Monetary Fund deemed a national debt of 70 per cent of GDP as still acceptable, while countries that had exceeded more than 100 per cent such as Japan and Singapore were still considered stable.
"In our case, the majority of the government's debt is ringgit denominated and will not be exposed to foreign currency fluctuations, which can cause additional financial burden to the government," Ahmed Razman told the New Straits Times.
Sunway University Economics professor Dr Yeah Kim Leng said the comfortable debt level for emerging economies had been found to be around 60-80 per cent of GDP.
Developed countries can exceed 100 per cent but they are more susceptible to financial crises, especially a sovereign debt crisis.
"It is noted that many developing countries have been hit by sovereign debt crisis at levels below the suggested range," he said.
However, Yeah said Malaysia's debt level had hit the upper limit of this range, suggesting increased vulnerabilities to a sovereign debt crisis and reduced capacity to support the economy in the event of an economic shock such as a pandemic or a global recession.
"More generally, the higher the fiscal deficit and debt level, the more panicky foreign investors become. A panic will trigger capital flight and cause 'sudden stops' that drain the country's foreign reserves.
"A gradual erosion of confidence will lead to foreign capital withdrawals that eventually trigger a panic or 'sudden stops'," he added.
He said fortunately, much of the government's debt, estimated at 97.5 per cent of the total, was denominated in ringgit.
"For domestic debt denominated in ringgit, there is zero default risk as the government can continue to issue new debt securities to repay old ones but it is an unsustainable process if the country's economic fundamentals such as growth, inflation and balance of payments were to deteriorate.
"In short, the current level is not alarming but concerning especially if no actions are taken to curb excessive and unproductive spending and stamp out leakages and wastages in public spending," he added.
Yeah said international rating agencies still had Malaysia's sovereign credit rating affirmed at A- while one of the three agencies had downgraded the sovereign to BBB+.
Hence, he said Malaysia's creditworthiness remained strong despite the deterioration in its fiscal metrics compared to similarly rated countries.
"Malaysia's fiscal vulnerabilities have risen but as evidenced by the A- investment grade sovereign credit rating, the level is not yet alarming. The immediate challenge is to improve those fundamentals to avoid a downgrade," he added.
Source: https://www.nst.com.my/business/2023/01/871278/comfortable-upper-limit