Advertisement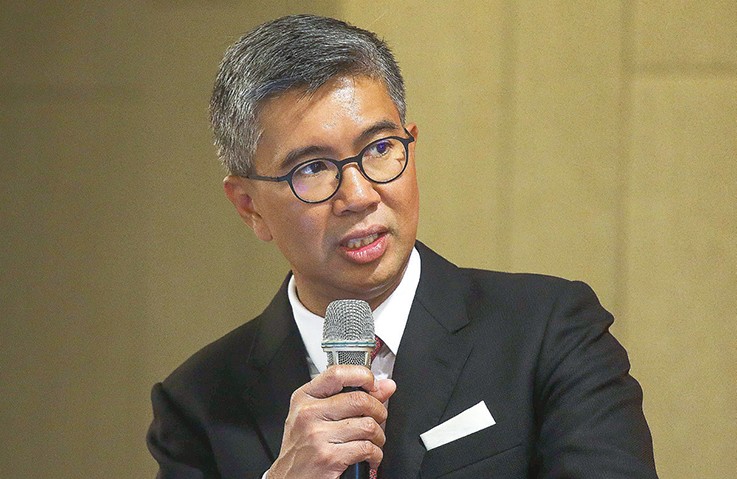 THE government has begun planning for the next phase of economic empowerment, which will be further elaborated in Budget 2021, Finance Minister Tengku Datuk Seri Zafrul Tengku Abdul Aziz (picture) said.
In the 18th Laksana report on the implementation of the Prihatin Rakyat Economic Stimulus Package (Prihatin) and short-term National Economic Recovery Plan (Penjana), he said the government is confident that the measures taken through these two have demonstrated a positive impact on recovery efforts.
"The teams from the Finance Ministry (MoF) continued the Jelajah Belanjawan 2021 to Johor on Aug 15 and 16, 2020, and Pahang on Aug 25 to seek feedback on the Prihatin and Penjana initiatives," he added.
At the same time, Tengku Zafrul said the platform aims to seek views and proposals leading up to the drafting of Budget 2021 through several engagement sessions with sector representatives like education, pharmaceuticals, agro-based industries, and female small and medium enterprises (SMEs) entrepreneurs.
"For Budget 2021, feedback from all levels of society is most welcome.
"The rakyat can start submitting their suggestions through a portal which will be open until Sept 15, 2020," he said.
Tengku Zafrul added that a total of 4.18 million recipients have successfully received payment credited into their bank accounts, involving RM2.7 billion.
In terms of frontliner allowance, a total of RM222.4 million has been channelled based on 694,447 claims comprising doctors, nurses and other medical personnel who have been directly involved in the management and containment of the Covid-19 pandemic.
Some 67,413 applications were received as of Aug 14, 2020, for the Employees Provident Fund (EPF) Covid-19 Assistance Programme for Employers.
From this, 12,706 applications worth RM83.23 million for the employers' EPF contribution were approved.
Meanwhile, RM9 billion worth of wage subsidies were approved benefitting more than 2.6 million employees.
Out of this amount, a total of RM8.75 billion was successfully channelled.
Payments for the Bank Simpanan Nasional Micro Credit Scheme were made to 9,899 SMEs, involving a total of RM340.12 million as of Aug 14, 2020.
Tengku Zafrul also said 5,838 applications amounting to RM40.73 million were approved through the Tekun Business Recovery Scheme under Penjana as of Aug 14, 2020, an increase from 3,459 applications a week ago.
From that amount, RM22.05 million was channelled and utilised by 3,053 micro SMEs.
For the Penjana SME Financing, as of Aug 14, 803 applications worth RM234.7 million were approved.
For the E-Commerce Campaign for Micro SMEs and SMEs, 71,000 Micro SMEs has benefitted from this initiative, up from 63,000 Micro SMEs a week ago.
Meanwhile, the SME Soft Loans Funds under Prihatin have seen a sum of RM10.1 billion worth of applications approved by local banks and accepted by SMEs, which will benefitted 22,143 SMEs.
"This amount includes the Special Relief Facility (SRF), Automation and Digitalisation Facility, All-Economic Sector Facility and Agrofood Facility funds.
"The SRF fund has received overwhelming response and has been fully utilised. Over 21,000 SMEs nationwide received the fund, which helps maintain over 400,000 jobs," he said.
With the restart of economic activities, he said SMEs could also apply for financing schemes that are still available through Bank Negara Malaysia such as the Automation and Digitalisation Facility, All-Economic Sector Facility and Agrofood Facility.
On the value of the moratorium on loan repayments by financial institutions, Tengku Zafrul said the value stood at RM74.3 billion as of Aug 14, 2020.
Of this figure, RM26 billion was utilised by the business sector while RM48.3 billion was utilised by the rakyat.
Source : https://themalaysianreserve.com/2020/08/28/govt-plans-next-phase-of-economic-empowerment/