Advertisement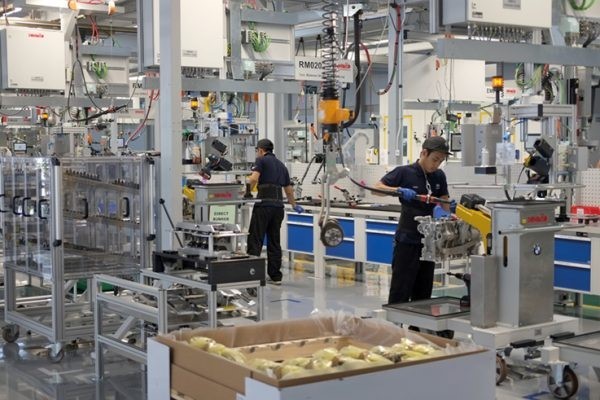 The Covid-19 epidemic is weighing on local manufacturers' outlook for business, according to the Federation of Malaysian Manufacturers (FMM) and Malaysian Institute of Economic Research (MIER).
FMM president Tan Sri Soh Thian Lai said sales projections for the first half of 2020 (1H20) are gloomy, with both local and domestic sales on decline, a sign that tough times are ahead.
In the 16th edition of the FMMMIER business conditions survey that tracked 490 respondents nationwide, manufacturers reckon that the outlook in 1H20 is generally lacklustre.
"Only 17% and 20% of the respondents are forecasting higher local and export sales respectively for 1H20.
"In tandem with the expected decline in sales, both production volume and capacity utilisation are also expected to decline, with 33% indicating that they are likely to produce smaller volumes and 30% considering lowering their capacities," he said in a statement yesterday.
The survey was conducted from Dec 12, 2019, to Jan 31, 2020, plus a two-week extension for respondents to assess the latest impact on the industry's outlook due to the Covid-19 outbreak.
The survey tracked business confidence via the FMM-MIER Business Conditions Index (FMM BCI), which covers the actual performance in 2H19 and outlook for 1H20.
"All indicators including general business conditions, local and export sales, production volume, capacity utilisation, capital investment and employment with the exception for cost of production are expected to be below the optimistic threshold level," Soh said.
The survey also shows that production cost is likely to be higher in 1H20 with 51% of respondents projecting an increase in their cost, up from 43% previously.
The top increases in production cost are input costs of materials (50% of responses), non-wage labour costs (45%), wages and salaries (25%), and utilities (electricity, fuel, natural gas and water [21%]).
Meanwhile, capital investment remains positive and 24% of respondents are looking to increase their capital investments in the months ahead.
Recruitment, however, is likely to remain relatively flat in the first six months of the year with only 17% of respondents planning on increasing headcount soon.
"On the issues faced in sourcing of foreign workers, higher remuneration demanded by workers tops the list, followed by zero-cost policy that has raised recruitment cost, freeze/gender restriction by source countries and lack of interest among them to work in Malaysia.
"On the issue of processing of applications by local authorities, the top three issues affecting respondents are stringent processing by the Labour Department, while tedious (and lengthy) documentation (procedure) causes delays to the process," Soh said.
Of those affected, half estimated the impact on their businesses at 10%<40%, while another 13% estimated theirs at 50%<60%, the survey shows.
Some 43% of respondents are reducing foreign workers with automation as their most popular initiative.
"Some are stepping up efforts to recruit locals including offering better pay packages and benefits. Most who do not implement any initiative to reduce foreign workers are of the view that that group of employers is more reliable and productive than locals.
"Majority do not welcome another legalisation exercise and will apply through the normal procedure of hiring foreign workers. There were fears that another legalisation exercise would create confusion and problems, and encourage legal foreign workers to abscond," he added.
FMM-MIER also conducted a quick survey from Feb 7, 2020, to ascertain the impact of the outbreak on manufacturers and trade
"The main concern of manufacturers is impact on production due to reduced supply of raw materials from China including moulded and metal press parts, iron and steel products, ingredients for food and beverage production, parts and components for machinery, paper and packaging material, and plastic materials including resin, among others.
"Similarly, exports to China are also affected by reduced demand," Soh added.
The main sectors impacted in terms of domestic sales, according to the survey, are food products, construction materials, motor vehicles, trailers and semi-trailers, electrical machinery and apparatus, basic metal and fabricated metal products, and chemical and chemical products.
Exports most affected include machinery and equipment, automotive components, electrical and electronics products, toiletries, steel products and processed food products.
Ratings agency Moody's Corp expects economic activity to pick up again in 2H20, however, resumption of normal economic activity will depend on how long it takes to contain the global spread of the virus.
VP Madhavi Bokil in a statement last Saturday said even if the virus is steadily contained, the outbreak will dampen global economic activity well into the second quarter of this year.
"A sustained pullback in consumption, coupled with extended closures of businesses, would hurt earnings, drive layoffs and weigh on sentiment. Such conditions could ultimately feed self-sustaining recessionary dynamics.
"Furthermore, heightened asset price volatility would also result in serving to magnify and transmit the shock across borders, including to emerging-market countries. Currently, uncertainty remains unusually high," she said.
Bokil believes that policy announcements from fiscal authorities, central banks and international institutions so far suggest that policy response is likely to be strong and targeted in affected countries.
"Targeted fiscal policy measures will likely help limit the damage in individual economies. Moody's also expects central banks to adopt an easier stance, reinforcing fiscal measures," she added.
Source: https://themalaysianreserve.com/2020/03/10/virus-dampens-manufacturers-outlook-for-1h20/